Implant Dentures – Columbia, TN
Add Strength and Stability to Your Dentures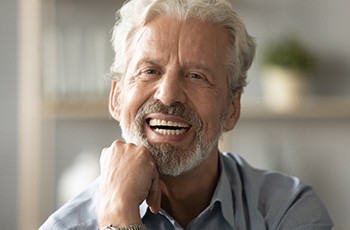 Tooth loss is a common problem our patients face, and many have used dentures to restore their smiles. Although they provide many benefits, traditional dentures can become loose and ill-fitting over time, leading to trouble chewing or even "slips" during conversations. Fortunately, we have a great solution: implant dentures in Columbia! Our experienced team of dentists at Beck Dental Care of Columbia has used implants to dramatically improve many of our patient's dentures. If you want better function and more confidence from your dentures, give us a call today to schedule a consultation!
What Are Implant Dentures?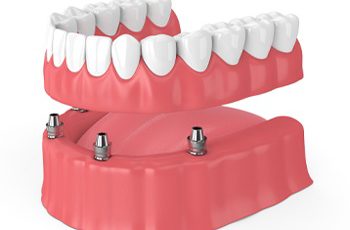 Implant dentures are a lot like traditional dentures, but the difference is that they're anchored into place with dental implants. There are various types, including removable and fixed. Let's take a closer look at each option:
Fixed/Permanent Implant Dentures
A fixed or permanent implant denture must be removed by one of our dentists in Columbia because it's "bolted" onto the implants. You'll wear it while eating, brushing, sleeping, and any other daily activities.
Removable Implant Dentures
A removable implant denture essentially snaps onto your implants, so you can remove them and put them back in on your own. You'll only have to remove them occasionally for maintenance and cleaning.
The Implant Denture Process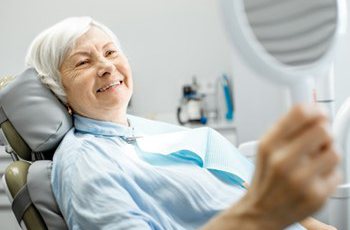 Getting implant dentures is done in phases. During the first phase of treatment, we'll do any dental work that's necessary beforehand such as extractions, gum therapy, or bone grafts.
The second phase is placing the implants in your jaw, which our team can do right here during a small, in-office surgery. In many cases, just 2-6 implants are needed per arch. Then we'll give the implants several months to integrate, or bond, with the surrounding jawbone. During this time, we can make a temporary denture you can use until your permanent one is made.
Finally, once the implants have fully healed, you'll come back a final time so we can deliver your permanent denture and make sure everything feels great.
Am I a Candidate for Implant Dentures?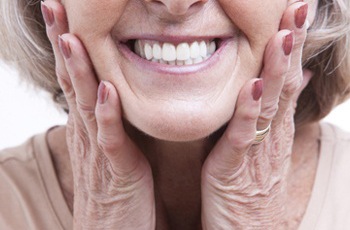 Since everyone is unique, the best way to find out if implant dentures are right for you is to schedule a consultation with one of our dentists. With decades of experience and advanced implant training, we'll start by thoroughly evaluating your needs so we can recommend the best solution for your smile.
Here are some of the factors we'll look at:
Jawbone density
Medical and dental history
Lifestyle choices such as tobacco use
Gum health and oral hygiene habits
Current medications
Benefits of Combining Dentures & Dental Implants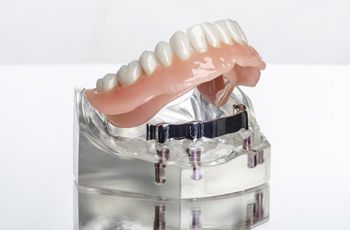 By using dental implants in Columbia in combination with dentures, we can give our patients the best of both worlds: all the benefits of a full denture along with the stability of dental implants. Below, you'll find some of the advantages you have to look forward to:
When a denture is securely anchored with implants, the need for dental adhesive is greatly reduced or eliminated entirely.
You'll have a lot more chewing power and stability to help you comfortably eat your favorite foods
Your dentures won't become loose over time or need frequent adjustments, so your maintenance costs will be much lower.
Want to know more about how implant dentures can benefit you? Give us a call today!