Dentures – Columbia, TN
Regain a Complete, Confident Smile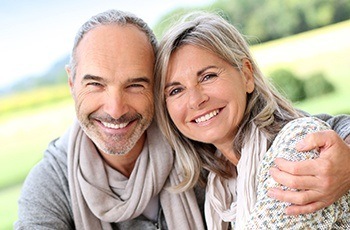 At Beck Dental Care of Columbia, we offer state-of-the-art dentures in Columbia to help you rebuild your smile. Instead of spending your days worrying about how your missing teeth are affecting the look of your smile or dealing with painful, damaged teeth that need to be removed, you can regain a complete, confident smile with help from your Columbia dentist at Beck Dental Care of Columbia. Whether you're missing numerous teeth or you are fully edentulous (without teeth), it's time to call us to schedule a tooth replacement consultation to discuss your options for tooth replacement with custom dentures in our Columbia, TN dental office. We look forward to seeing you soon and helping you learn to love your smile.
Who's a Good Candidate for Dentures?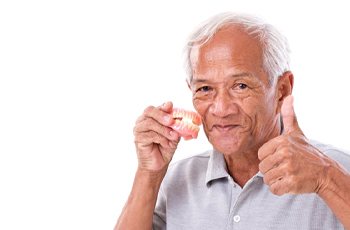 At Beck Dental Care of Columbia, we pride ourselves on our ability to help everyone who comes to see us for replacement teeth. If you're suffering from moderate to severe tooth loss, you're likely a good candidate for dentures. It's also important that issues like decayed teeth or gum disease are treated before we fit you with dentures, so once these issues are under control it's likely we can move ahead with your denture treatment. To see if dentures are the right option for you, come visit us for a consultation and talk to your Columbia dentist Dr. Beck, Dr. Hart , or one of our team members about which tooth replacement option is best for your smile.
Effects of Missing Teeth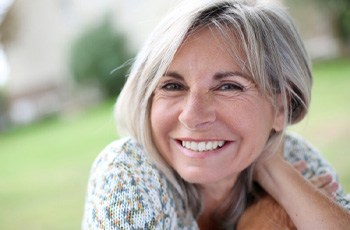 Firstly, it's a good idea to know about the causes of tooth loss and what can happen to your oral health if you don't replace your missing pearly whites. Some of the most common reasons involve tooth decay, poor oral hygiene, periodontal disease, and accidental injuries. There are also systemic health issues that can lead to or result in missing multiple teeth, such as insufficient jawbone density.
Having even one tooth missing can increase the risk of several complications. By not replacing your natural teeth, you can end up allowing the other remaining ones nearby to shift out of place to fill the gap. Your gum tissue can also start to recede and your jawbone can begin to shrink due to a lack of stimulation from tooth roots. Other consequences include difficulty speaking and eating, facial sagging, and reduced self-confidence.
What Qualifies You for Dentures?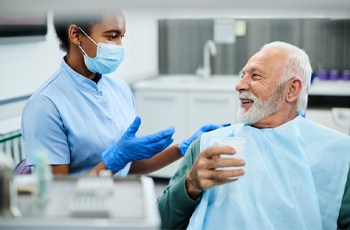 Generally, nearly everyone who is struggling with tooth loss may be a good candidate for dentures in Columbia. This tried-and-tested tooth replacement option is a reliable and lifelike solution for patients who are missing one, several, or all of their teeth. That said, you'll need to have strong and healthy gums and jawbone tissue to make the most of dentures.
The number of missing teeth can also influence the kind of denture you'll require. This means you may be qualified to get several different options, like partial dentures, full dentures, or even implant dentures. This traditional restoration is also a more cost-effective option for those getting treatment on a budget.
Alternative Tooth-Replacement Options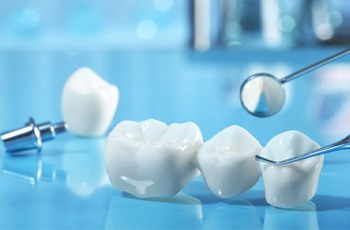 If you aren't currently eligible for dentures, our team can work with you to get your oral health back on track for your treatment. However, we also offer other tooth-replacement solutions that can benefit your smile all the same! These include:
Dental bridges – If you're only missing one or several teeth in a row, then a dental bridge may be your ideal option. The only requirement is that you have strong and healthy natural teeth on either side of the gap, which will support the bridge.
Dental implants – Instead of relying on your gums or neighboring teeth, we can directly insert titanium posts into your jawbone to support your brand-new pearly whites. Not only will this rebuild your teeth from the roots up, but it'll provide incredible stability to help you regain the majority of your biting power. You'll need sufficient jawbone mass for this treatment to work, and the initial cost is higher than traditional options. The results, however, can last several decades to a lifetime.
Learn More About Dental Bridges
Learn More About Dental Implants
Types of Dentures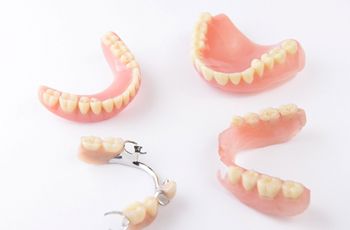 Dentures are replacement teeth mounted on a polymer or acrylic base to give them the appearance of natural teeth and gum tissue. Beck Dental Care of Columbia works with a trusted modern dental lab to create your denture restoration. They use high-quality materials to create exceptionally lifelike dentures that will look, feel, and function like your natural smile. Depending on your unique situation, we may recommend one of the following options:
Temporary Dentures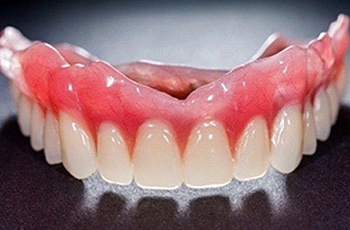 Sometimes, in order for a patient to get a denture, teeth need to be removed to create enough room for the device. After we have extracted your teeth, we'll take an impression of your mouth to design your new denture. While the dentures are being made by a dental lab, we'll fit you for a temporary denture, so you don't have to go without teeth at any point. Once your final denture is complete, we'll swap it out with your temporary one.
Partial Dentures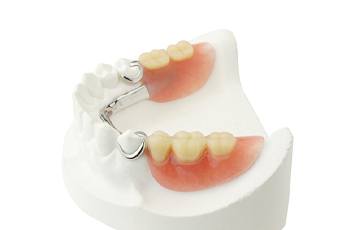 A partial denture is a dental prosthetic designed to replace multiple missing teeth while fitting in comfortably among a patient's remaining teeth, much like a piece of a puzzle. They are all entirely custom-made, and they consist of ceramic teeth attached to a metal-support structure covered in a gum-colored material to help the denture blend in. They're held in place within the mouth using small metal claps that loop around the remaining teeth.
Full Dentures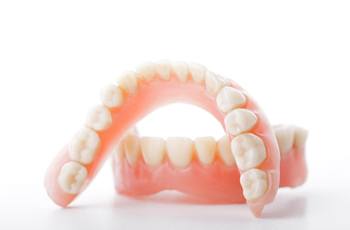 If you are missing an entire row of teeth on your upper and/or lower jaw, a full denture is a relatively quick and affordable way to replace them all at once. An acrylic, gum-colored base it used to support an entire row of prosthetic teeth, and it simply sits on top of the gums, staying in place thanks to natural suction and perhaps a little denture adhesive. With them, we can drastically improve a patient's ability to speak and eat with confidence.
Implant Dentures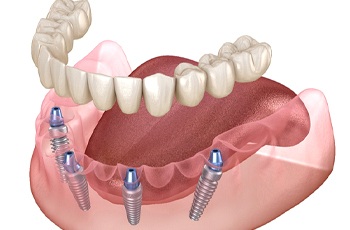 If you are in search for a tooth replacement option that is as close to natural teeth as possible, an implant denture may be exactly what you've been looking for. These dental prosthetics are removable like traditional dentures, but they are snapped into place over the top of dental implant posts, allowing patients to remove the denture for ease of cleaning. Compared to a regular denture, an implant denture has a much firmer hold, the fit lasts longer, and it also gives a patient a much stronger bite force. That means you can enjoy a wider range of foods and speak and smile with complete confidence in every situation. Best of all, implant dentures ensure optimal oral health by providing the stimulation necessary to maintain the jawbone density and gum tissue volume needed to hold the patient's facial shape.
How Dentures Are Made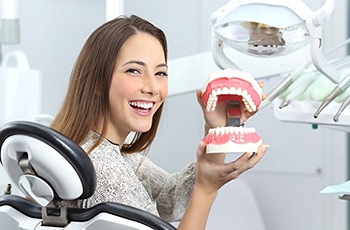 Once you've decided to commit to dentures, you might have questions about how they're made and what the process for receiving them looks like. After all, they're going to be a part of your smile for the foreseeable future, so it helps to know as much about them as possible so you can properly appreciate them! Here's more about what goes into crafting your dentures and how they're fitted to your unique smile.
What Are Dentures Made Of?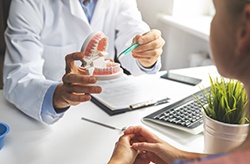 Dentures consist of two main components: the base of the denture and the artificial replacement teeth. Here's a brief breakdown of each:
Denture base – This is the foundation that provides support for your artificial teeth. It can be made from a variety of different materials including acrylic, nylon, resin, porcelain, or even metal, though acrylic is typically the most common since it can be easily matched to your natural gum tissue.
Artificial teeth – These are most often constructed using resin or porcelain for a natural-looking appearance. Porcelain is usually the most popular option, especially for full dentures since it looks and feels quite similar to natural teeth in addition to being resilient.
The Denture Creation Process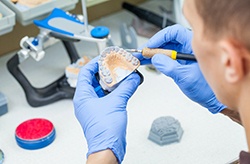 Receiving dentures is a multi-step process; here's a closer look at what goes into the creation and fitting of dentures:
Step 1: Impressions need to be taken of your upper and lower gums in order to create an exact replica of your mouth. This model is essentially the blueprint for your final restoration and ensures that your dentures are the correct size and shape. Measurements of the jaw are also taken.
Step 2: The model is used in the fabrication of your restoration, which occurs at a modern dental lab. High-quality materials are used to create a wax version of your gumline to work with.
Step 3: Artificial teeth are set into the wax base and then attached and adjusted using special equipment to ensure uniformity.
Step 4: The wax dentures are sent back to us so that we can ensure they're the correct size and dimensions. Once they've been approved, they're sent back to the lab for the final steps of their construction. Often, patients are given temporary dentures to wear in the meantime.
Step 5: Back at the lab, the wax portions of the model are placed in plaster and then boiled away, before being replaced with the acrylic that will serve as the permanent material for the denture base.
Step 6: The plaster is carefully removed, and excess acrylic or other material is cut off before the dentures are polished.
Step 7: Once they're polished and ready, they'll be fitted to your mouth and adjusted if necessary. We'll be sure that everything looks and functions properly before sending you off into the world with your new smile!
Adjusting To Your New Dentures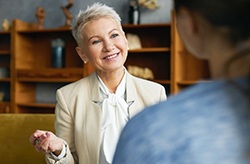 It's normal to experience an adjustment period after receiving dentures, but this phase usually only lasts about a month or so. During this time, it's crucial to stick to eating softer foods as well as regularly exercising your facial muscles. Denture adhesives can also be used to further stabilize your restoration, if necessary. When it comes to speech, it's also advised to practice talking with a friend or family member so that you're able to refine your pronunciation. If you encounter any extreme difficulty or discomfort, don't hesitate to give us a call for assistance. Once you conquer this adjustment period, you'll hardly notice a difference between your dentures and your natural teeth!
Benefits of Dentures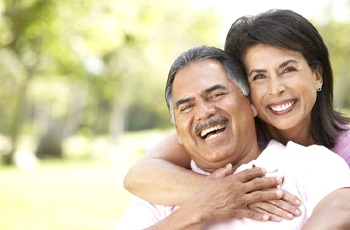 It doesn't matter how many teeth you're missing – dentures can restore your smile and allow you to enjoy a fully functioning mouth once again! This life-changing method of tooth replacement is a great option for patients missing one, several, or all of their teeth. Not only can dentures boost your confidence, but they can improve your overall quality of life by providing several important benefits. That's why they're considered one of the most popular solutions for tooth loss even to this day!
Psychological Benefits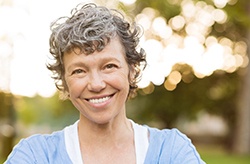 If you suffer from tooth loss, you know from experience the impact it can have on your self-confidence and day-to-day life. People with missing teeth often experience an increased risk of social anxiety, sadness, and even depression. Fortunately, you can avoid these psychological issues by renewing your smile with dentures! They'll allow you to eat, speak, and live life far more comfortably.
Clearer Enunciation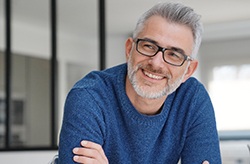 As you can imagine, having gaps in your smile can make it more difficult to speak. You may have trouble pronouncing and enunciating certain words, mainly because your lips and tongue interact with them to perform the speech. Since dentures restore your pearly whites, they can make it easier for you to talk to others again! It will take a bit of practice to adjust to your prosthetic, but once that happens you'll be speaking fluently and confidently in no time.
Improves Nutrition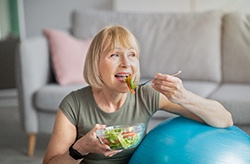 Tooth loss doesn't just affect your appearance. It can also impact the kinds of foods you eat. For instance, being unable to chew your meals comfortably may cause you to experience problems like indigestion and malnutrition. By restoring your oral health with dentures, you can regain the ability to munch on all of your favorite foods once again! You'll be able to expand your diet to allow for more nutritious options.
Preserves Oral Health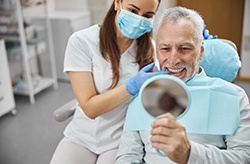 When you have gaps in your smile, any nearby remaining teeth can shift out of place to fill in the gap. If left untreated, you may experience further tooth loss and jawbone resorption. These complications can be avoided with dentures, which help support their positions. Plus, your restorations can withstand more of the pressure of chewing, allowing you to avoid further wear and tear.
Expands Opportunity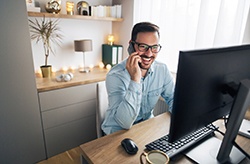 Believe it or not, your smile is one of the first things people notice about you. This is especially the case during job interviews, social gatherings, and first dates. According to a 2019 study, poor oral health was closely associated with a lower probability of being employed. Because of that, it's safe to assume that completing your smile with dentures will improve both your oral health and boost your career opportunities in the long run.
Understanding the Cost of Dentures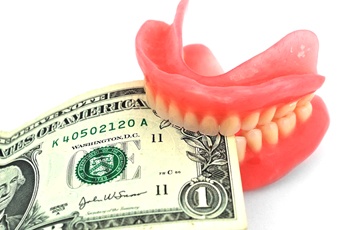 Our team tailors each tooth replacement to the patient's unique needs, which is why the cost of dentures in Columbia can vary significantly from patient to patient. When you visit Beck Dental Care of Columbia for a consultation, we'll go over all of the variables that go into creating your brand-new teeth. From there, we'll develop a custom treatment plan and walk you through the steps in the process as well as your financial options. Here are a few basics you need to understand about how much dentures cost.
Factors That Affect the Cost of Dentures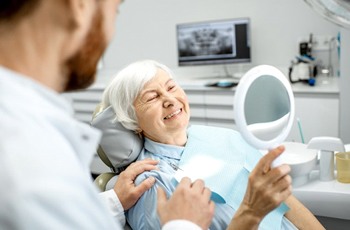 When determining the cost of your replacement teeth, your denture dentist in Columbia will consider three main factors:
Whether you need any preparatory work before receiving your prosthetic, such as gum disease therapy or tooth extractions.
The type of denture you're getting (full, partial, or implant denture).
The materials that are used to craft your prosthetic.
You might be tempted to save money by choosing a denture made from a cheaper material, but you tend to get what you pay for when it comes to dental care. If you want a set of replacement that is reliable, comfortable, and long-lasting, it's worth your while to invest in a high-quality denture.
Are Implant Dentures More Expensive?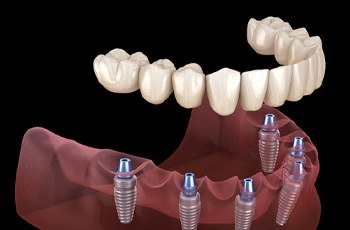 Compared to traditional dentures, implant dentures in Columbia almost always cost more initially. However, don't let that deter you! Securing a denture onto dental implants may actually be the more cost-effective option in the long term. While a regular denture typically needs to be replaced every five to seven years, implant dentures can potentially last for 30+ years. Plus, implant dentures keep your jawbone strong, reduce your risk of facial collapse and premature aging, make daily oral hygiene easier, and let you chew a wider variety of foods. Most of our patients with implant dentures have gone on to say they were worth every single penny!
Does Dental insurance Cover Dentures?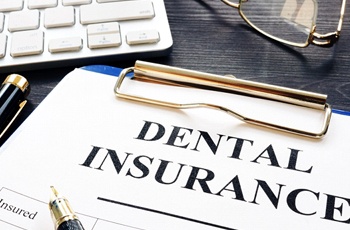 After you've met your deductible, there's a good chance that your dental insurance provider will cover a portion of the cost of dentures. Often, dentures are covered at 50-80%, but that of course varies based on the details of your policy. Our team at Beck Dental Care of Columbia will gladly help you file claims and maximize your benefits. We're in-network with BlueCross BlueShield, United Healthcare, and Delta Dental, so patients with those plans can look forward to even more savings.
Other Options for Making Dentures Affordable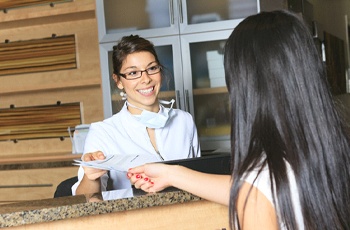 If you're currently uninsured, or your plan doesn't provide as much coverage as you'd like, you may be interested in financing your dentures with CareCredit. We can help you apply for a payment plan through this third-party company, which lets you split up your treatment costs into monthly chunks that fit into virtually any budget. Better yet, most of these plans come with zero or extremely low interest rates!
Denture Aftercare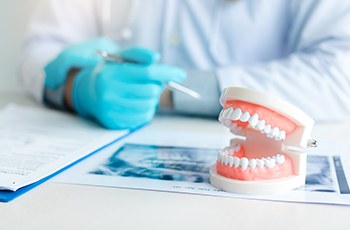 Once you start wearing dentures, you may assume all your oral troubles are over. That's natural enough – you likely think artificial teeth don't need upkeep. However, the fact is that your new smile still requires care. Dentures only work when given regular maintenance and a healthy mouth for support. Therefore, you'll want to maintain good oral habits in the future. Luckily enough, though, Beck Dental Care has tips on caring for dentures. Just keep reading to learn about them, or call our office.
Removeable Dentures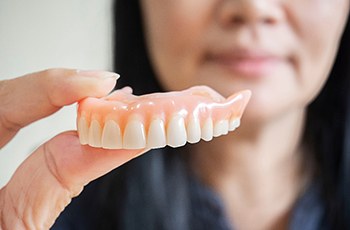 Remove After Eating
After each meal, you should remove and rinse off your dentures. The habit prevents food debris and plaque from building up in the restorations.
Still, remember not to use hot water for the rinse. High temperatures warp denture material. Consequently, rinsing with heated water may cause the dentures to fit poorly over time.
Clean Your Restoration
Aside from the rinses, you should also remove your dentures for cleaning once daily. Doing so will reduce your risk of gum disease and similar oral health issues.
Only use a soft-bristled toothbrush and hand soap for the cleaning. Regular toothpaste is a non-starter, as its abrasiveness harms dentures.
If you don't need them back soon, put the dentures in a cleansing solution after brushing. From there, you should rinse the restorations before re-inserting them.
Keep Your Dentures Safe
Dentures are surprisingly fragile, so they need consistent protection. Therefore, remember to keep them safe when they're outside your mouth.
One good idea is to keep a towel handy during cleaning. Should you place one beneath the prosthetics, it'll cushion them should they fall.
Furthermore, you could always store dentures away from small kids or pets. Such groups, after all, could find them and cause damage.
Remove Dentures When You Sleep
When going to bed, take your dentures out and store them in a soaking solution. Sleeping with these prosthetics in your mouth will cause long-term problems.
Firstly, remember that dentures restrict gum circulation. If you wear them for too long, you'll likely suffer soft-tissue irritation. Storing them, however, gives your mouth a chance to rest.
Using dentures overnight is also unsanitary. The habit is linked to a high pneumonia risk and raised gum and tongue plaque levels.
Notice Changes
When you start wearing dentures, watch for any changes in them or your mouth. These things may need to be addressed by a local dentist.
For example, visit the nearest practice if the dentures start fitting poorly or get damaged. Trying to fix things yourself will likely do more harm. In contrast, a dental provider can refit, reline, or even replace the prosthetics.
All-on-4 Dentures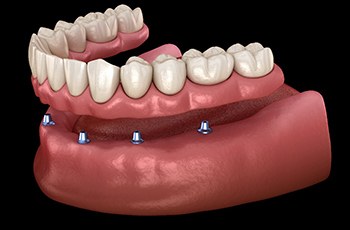 All-on-4 dentures are permanent and irremovable. As such, they require unique care methods. These include:
Careful Brushing – Always try to brush your dentures twice daily with non-abrasive toothpaste.
Precise Flossing – Flossing your dentures once daily is crucial. If necessary, you can use floss threaders to reach areas beneath the denture.
Focus on the Gumline – You'll need to be able to clean between the restoration and your gums. Consequently, consider getting a sulcus brush – this kind has one-third the width of normal toothbrushes.
Mouth Rinses – If possible, rinse your mouth with antibacterial mouthwash daily.
Denture Frequenlty Asked Questions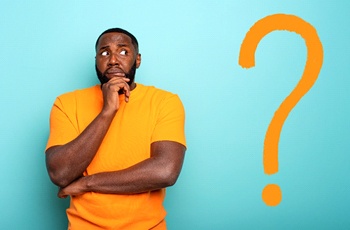 We realize that you probably have some questions about the process of getting and adjusting to dentures, especially if this is your first experience with false teeth. We're here to help you adapt to your new situation and address your concerns as thoroughly as possible. We've answered some of the questions we've received most frequently down below for your convenience, but you can always call us if there's anything you want to know that isn't covered here.
At What Age Will I Need Dentures?
Age is actually not necessarily the determining factor for whether or not you need dentures; not everyone will suffer from tooth loss. Of course, it is true that older people are generally more likely to need tooth replacements. Around 66% of adults between ages 40 and 64 are missing at least one tooth, and the American Dental Association found that nearly 57% of people between the ages of 65 and 74 need dentures. With that said, it's still possible for younger patients to lose teeth in an accident or due to poor oral hygiene. We will recommend dentures based on the state of your mouth rather than your age.
Is It Ok to Sleep with Dentures?
You'll usually told to sleep with your dentures for the first night. Afterwards, you should make a habit of removing them and storing them in cleaning solution whenever you go to bed. This is because supporting your dentures all day can take a toll on your gums, leading to soft tissue irritation. Taking out your dentures periodically gives your mouth a chance to heal. Something else to consider is the fact that bacteria tend to breed in dark, moist, enclosed spaces – such as the area between the dentures and the gums. Wearing false teeth for too long has been known to result in higher levels of gum and tongue plaque; it's much more hygienic to take them out at night.
Will It Hurt to Get Dentures?
Getting dentures is by no means a painful process. Some discomfort in the form of minor irritation is to be expected while you're first getting used to your new teeth. It can take a few months to fully adjust to dentures, but sooner or later any discomfort should fade away. Note that if you get a new set of dentures, it might take you a little longer to get used to them compared to your old set.
What Can I Eat with Dentures?
When you've lost all or most of your teeth, dentures allow you to eat a wider variety of foods so that you can continue to maintain a healthy diet. There are certain foods that you need to be careful around. Peanut butter and similarly sticky foods can pull dentures out of place, while nuts, unsliced apples, and other hard foods might break them. Also, because dentures don't have the same strength as natural teeth, steak and other tough meats will require more chewing than usual, so make sure that you cut them into small pieces first.