Dentures – Columbia, TN
Regain a Complete, Confident Smile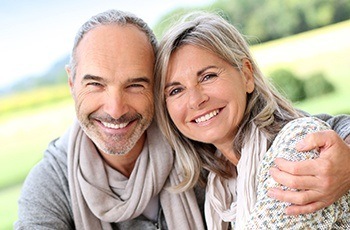 At Beck Dental Care of Columbia, we offer state-of-the-art dentures in Columbia to help you rebuild your smile. Instead of spending your days worrying about how your missing teeth are affecting the look of your smile or dealing with painful, damaged teeth that need to be removed, you can regain a complete, confident smile with help from your Columbia dentist at Beck Dental Care of Columbia. Whether you're missing numerous teeth or you are fully edentulous (without teeth), it's time to call us to schedule a tooth replacement consultation to discuss your options for tooth replacement with custom dentures in our Columbia, TN dental office. We look forward to seeing you soon and helping you learn to love your smile.
Who Is a Good Candidate for Dentures?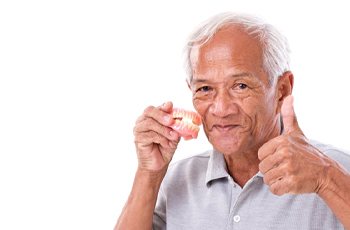 At Beck Dental Care of Columbia, we pride ourselves on our ability to help everyone who comes to see us for replacement teeth. If you're suffering from moderate to severe tooth loss, it's likely that you're a good candidate for dentures. It's also important that issues like decayed teeth or gum disease are treated before we fit you with dentures, so once these issues are under control it's likely we can move ahead with your denture treatment. To see if dentures are the right option for you, come visit us for a consultation and talk to your Columbia dentist Dr. Beck, Dr. Hart or one of our team members about which tooth replacement option is best for your smile.
Types of Dentures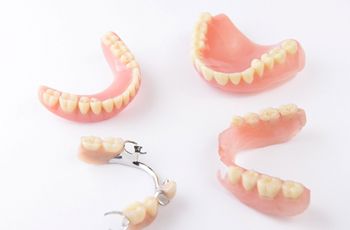 Dentures are replacement teeth mounted on a polymer or acrylic base to give them the appearance of natural teeth and gum tissue. Beck Dental Care of Columbia works with a trusted modern dental lab to create your denture restoration. They use high-quality materials to create exceptionally lifelike dentures that will look, feel, and function like your natural smile. Depending on your unique situation, we may recommend one of the following options:
Temporary Dentures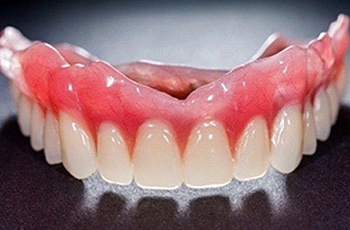 Sometimes, in order for a patient to get a denture, teeth need to be removed to create enough room for the device. After we have extracted your teeth, we'll take an impression of your mouth to design your new denture. While the dentures are being made by a dental lab, we'll fit you for a temporary denture, so you don't have to go without teeth at any point. Once your final denture is complete, we'll swap it out with your temporary one.
Partial Dentures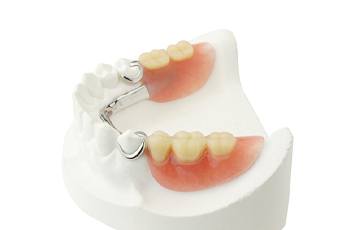 A partial denture is a dental prosthetic designed to replace multiple missing teeth while fitting in comfortably among a patient's remaining teeth, much like a piece of a puzzle. They are all entirely custom-made, and they consist of ceramic teeth attached to a metal-support structure covered in a gum-colored material to help the denture blend in. They're held in place within the mouth using small metal claps that loop around the remaining teeth.
Full Dentures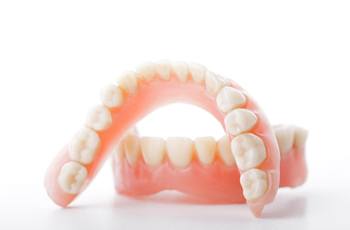 If you are missing an entire row of teeth on your upper and/or lower jaw, a full denture is a relatively quick and affordable way to replace them all at once. An acrylic, gum-colored base it used to support an entire row of prosthetic teeth, and it simply sits on top of the gums, staying in place thanks to natural suction and perhaps a little denture adhesive. With them, we can drastically improve a patient's ability to speak and eat with confidence.
Implant Dentures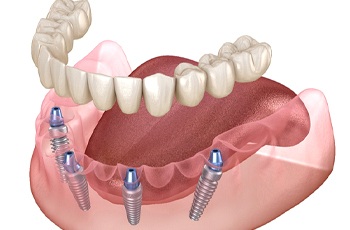 If you are in search for a tooth replacement option that is as close to natural teeth as possible, an implant denture may be exactly what you've been looking for. These dental prosthetics are removable like traditional dentures, but they are snapped into place over the top of dental implant posts, allowing patients to remove the denture for ease of cleaning. Compared to a regular denture, an implant denture has a much firmer hold, the fit lasts longer, and it also gives a patient a much stronger bite force. That means you can enjoy a wider range of foods and speak and smile with complete confidence in every situation. Best of all, implant dentures ensure optimal oral health by providing the stimulation necessary to maintain the jawbone density and gum tissue volume needed to hold the patient's facial shape.
The Benefits of Dentures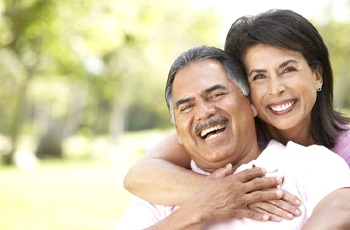 While there are plenty of tooth replacement options to choose from these days, dentures remain as one of the most popular because they offer a variety of important benefits, like:
Relatively fast results that can last for many years to come
Minimally invasive treatment that doesn't cause any discomfort
Regained ability to eat many of your favorite foods and speak clearly
Support for the facial muscles, which can help with appearance
Durable and natural-looking thanks to high quality materials
A cost-effective way to regain your smile and your confidence
Understanding the Cost of Dentures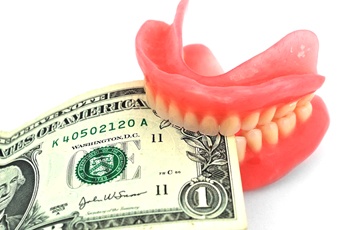 Our team tailors each tooth replacement to the patient's unique needs, which is why the cost of dentures in Columbia can vary significantly from patient to patient. When you visit Beck Dental Care of Columbia for a consultation, we'll go over all of the variables that go into creating your brand-new teeth. From there, we'll develop a custom treatment plan and walk you through the steps in the process as well as your financial options. Here are a few basics you need to understand about how much dentures cost.
Factors That Affect the Cost of Dentures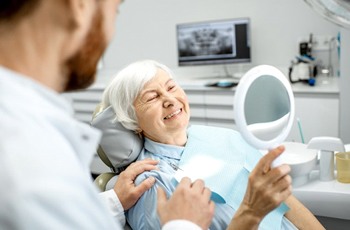 When determining the cost of your replacement teeth, your denture dentist in Columbia will consider three main factors:
Whether you need any preparatory work before receiving your prosthetic, such as gum disease therapy or tooth extractions.
The type of denture you're getting (full, partial, or implant denture).
The materials that are used to craft your prosthetic.
You might be tempted to save money by choosing a denture made from a cheaper material, but you tend to get what you pay for when it comes to dental care. If you want a set of replacement that is reliable, comfortable, and long-lasting, it's worth your while to invest in a high-quality denture.
Are Implant Dentures More Expensive?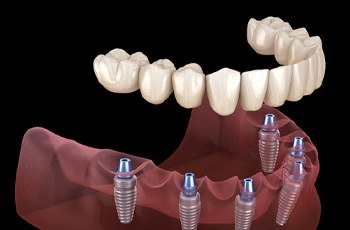 Compared to traditional dentures, implant dentures in Columbia almost always cost more initially. However, don't let that deter you! Securing a denture onto dental implants may actually be the more cost-effective option in the long term. While a regular denture typically needs to be replaced every five to seven years, implant dentures can potentially last for 30+ years. Plus, implant dentures keep your jawbone strong, reduce your risk of facial collapse and premature aging, make daily oral hygiene easier, and let you chew a wider variety of foods. Most of our patients with implant dentures have gone on to say they were worth every single penny!
Does Dental insurance Cover Dentures?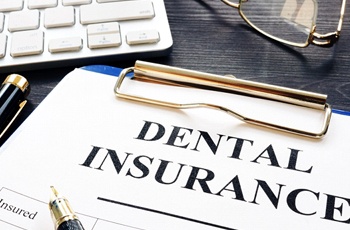 After you've met your deductible, there's a good chance that your dental insurance provider will cover a portion of the cost of dentures. Often, dentures are covered at 50-80%, but that of course varies based on the details of your policy. Our team at Beck Dental Care of Columbia will gladly help you file claims and maximize your benefits. We're in-network with BlueCross BlueShield, United Healthcare, and Delta Dental, so patients with those plans can look forward to even more savings.
Other Options for Making Dentures Affordable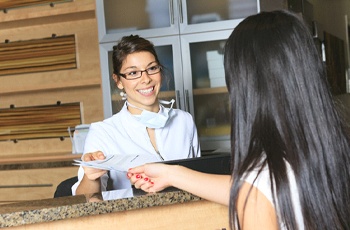 If you're currently uninsured, or your plan doesn't provide as much coverage as you'd like, you may be interested in financing your dentures with CareCredit. We can help you apply for a payment plan through this third-party company, which lets you split up your treatment costs into monthly chunks that fit into virtually any budget. Better yet, most of these plans come with zero or extremely low interest rates!
Denture Frequenlty Asked Questions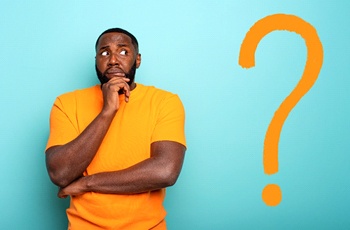 We realize that you probably have some questions about the process of getting and adjusting to dentures, especially if this is your first experience with false teeth. We're here to help you adapt to your new situation and address your concerns as thoroughly as possible. We've answered some of the questions we've received most frequently down below for your convenience, but you can always call us if there's anything you want to know that isn't covered here.
At What Age Will I Need Dentures?
Age is actually not necessarily the determining factor for whether or not you need dentures; not everyone will suffer from tooth loss. Of course, it is true that older people are generally more likely to need tooth replacements. Around 66% of adults between ages 40 and 64 are missing at least one tooth, and the American Dental Association found that nearly 57% of people between the ages of 65 and 74 need dentures. With that said, it's still possible for younger patients to lose teeth in an accident or due to poor oral hygiene. We will recommend dentures based on the state of your mouth rather than your age.
Is It Ok to Sleep with Dentures?
You'll usually told to sleep with your dentures for the first night. Afterwards, you should make a habit of removing them and storing them in cleaning solution whenever you go to bed. This is because supporting your dentures all day can take a toll on your gums, leading to soft tissue irritation. Taking out your dentures periodically gives your mouth a chance to heal. Something else to consider is the fact that bacteria tend to breed in dark, moist, enclosed spaces – such as the area between the dentures and the gums. Wearing false teeth for too long has been known to result in higher levels of gum and tongue plaque; it's much more hygienic to take them out at night.
Will It Hurt to Get Dentures?
Getting dentures is by no means a painful process. Some discomfort in the form of minor irritation is to be expected while you're first getting used to your new teeth. It can take a few months to fully adjust to dentures, but sooner or later any discomfort should fade away. Note that if you get a new set of dentures, it might take you a little longer to get used to them compared to your old set.
What Can I Eat with Dentures?
When you've lost all or most of your teeth, dentures allow you to eat a wider variety of foods so that you can continue to maintain a healthy diet. There are certain foods that you need to be careful around. Peanut butter and similarly sticky foods can pull dentures out of place, while nuts, unsliced apples, and other hard foods might break them. Also, because dentures don't have the same strength as natural teeth, steak and other tough meats will require more chewing than usual, so make sure that you cut them into small pieces first.