Porcelain Veneers – Columbia, TN
We Can Instantly Perfect Your Smile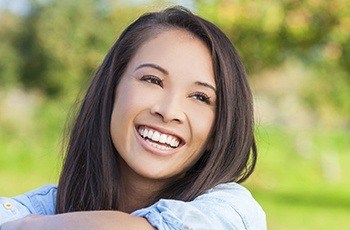 Does your smile suffer from imperfections? Do you have chips, cracks, or stains that constantly bother you? Porcelain veneers in Columbia could be just the answer you've been looking for. Here at Beck Dental Care, our expert team of dentists can craft beautiful veneers to hide your flaws. With our wide range of veneer options, we have the skills to make sure your veneers appear natural and your smile looks better than ever before. To get started on achieving a perfect smile, give us a call today!
What Are Porcelain Veneers?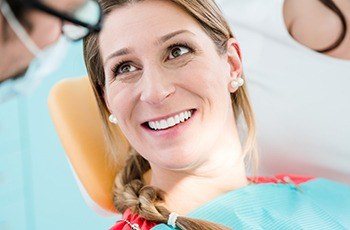 Porcelain veneers are a great way to improve the size, shape, proportion, and color your teeth. These thin, white pieces of dental ceramic are bonded to the front of your teeth to hide any imperfections. A small amount of enamel is removed before your veneer is placed so we can make sure it fits well. Once your teeth are prepped, we capture impressions and use them to design your veneers in such a way that they blend right in with the rest of your smile.
What Problems Can Porcelain Veneers Fix?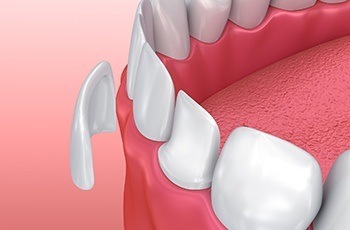 As a versatile cosmetic dental solution, veneers can treat a number of dental imperfections:
Chipped teeth
Cracked teeth
Dental stains
Misshapen teeth
Slightly crooked or rotated teeth
Gaps between teeth
Benefits of Porcelain Veneers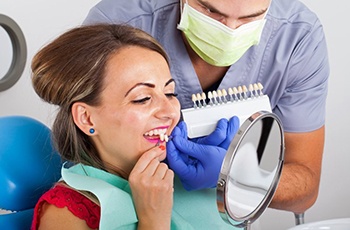 During your consultation with your dentist in Columbia, don't be surprised if we share some of the many, many benefits of veneers. Although there are multiple cosmetic dental solutions to choose from, here are just a few of the reasons why we often recommend veneers:
Each veneer is custom-made to resemble your original tooth. Once they have been placed, other people shouldn't even be able to tell that you had dental work done!
Because they conceal the entire front-facing surface of a tooth, virtually all aesthetic flaws can be corrected in just one procedure.
Dental porcelain is much more stain-resistant than tooth enamel, allowing you to enjoy a bright smile for years to come.
Veneers can last for more than a decade with little maintenance beyond what you would extend to any other teeth.
Placing veneers requires less enamel removal than dental crowns do, making them a more conservative treatment that lets you retain more of your natural tooth structure.
The Process of Getting Porcelain Veneers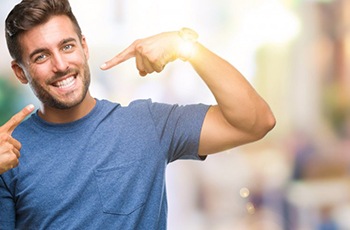 Receiving veneers only takes two brief appointments. First, we'll prepare your teeth by removing a sliver of enamel. While this step is permanent, it ensures the veneers do not appear bulky against the rest of your smile. Then, we take impressions of your mouth to send to a dental lab. It will take them a couple of weeks to create your personalized veneers, so we may place temporaries in the meantime. Once your final veneers arrive at our office, we'll make any last-minute adjustments and cement them into place.