All-On-4 Dental Implants – Columbia, TN
Restore Your Smile's Health & Beauty Today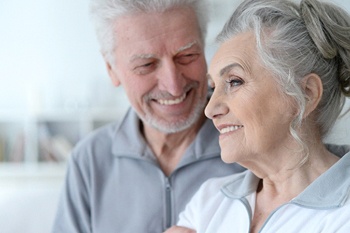 Instead of replacing each tooth individually, a full denture can be supported by just 4 dental implants. All-on-4 is an amazing option that eliminates the hassle and discomfort of slipping traditional dentures. Plus, it's cost-effective and you may even be able to have your new teeth placed the same day as your implant surgery. Dr. Beck, Jr. and his team of experts places and restores implants at their dental office for ultimate convenience. Read on to learn more about All-on-4 dental implants in Columbia, TN!
How Do All-On-4 Dental Implants Work?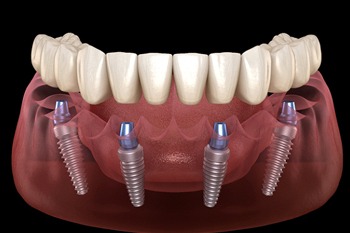 Dental implants are the best option for tooth replacement because they are incredibly lifelike, stable, and strong. However, they must have enough jawbone for surgery to be successful. All-on-4 dental implants can anchor a denture in place using the fewest number of implants. This is possible because we place as little as 4 dental implants in the thickest parts of the jawbone for maximum efficiency. To reduce the need for bone grafting that strengthens the jaw, the 2 implants closest to the back of the mouth are placed at 45-degree angles. These act as tooth roots, allowing you to enjoy a stable, lifelike, and comfortable denture.
Am I A Candidate for All-On-4 Dental Implants?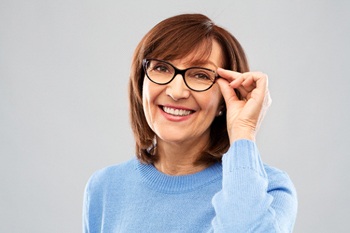 Most patients who have lost all or most of there teeth on one or both arches are good candidates for All-on-4. Even if you have suffered bone loss due to missing teeth, you still may be able to benefit from All-on-4 because of the strategic placement of implants. However, you must be in good oral health, which is why preexisting dental issues like gum disease will need to be addressed by our implant dentist in Columbia before treatment. Additionally, it's important to break bad habits like tobacco use because this can cause implant failure.
What Are the Benefits of All-On-4 Dental Implants?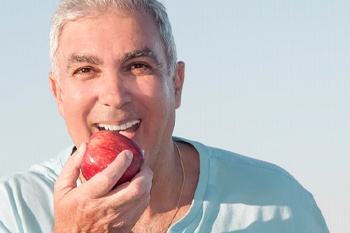 There are many reasons to choose All-on-4 dental implants in Columbia, including:
Unlike traditional dentures, All-on-4 can be permanently fixed to the jaw to create the most natural looking and feeling smile.
You can care for and brush your All-on-4 smile as you would your original one – no taking it out to soak or clean.
Eat all your favorite foods because All-on-4 restores your chewing power. You won't ever have to worry about a sliding or slipping denture.
Prevent jawbone loss – dental implants stimulate the jaw to prevent it from deteriorating after your lose teeth.
All-On-4 vs. Traditional Dental Implants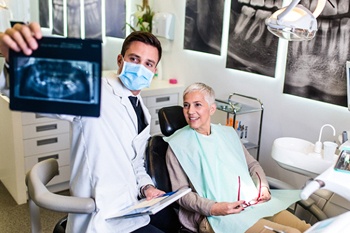 Traditional dentures often take 8 implants to support them, which makes All-on-4 a more efficient and cost-effective option. Additionally, you may not even need to get bone grafting that adds months of recovery time toward getting your new set of teeth. Lastly, with All-on-4, it's possible to get your full smile on the same day of your implant placement. This means you'll get to walk out of our dental office with a beautiful, healthy, and strong set of teeth in as little as one appointment!