Dental Crowns – Columbia, TN
Smile, Speak, and Eat Unhindered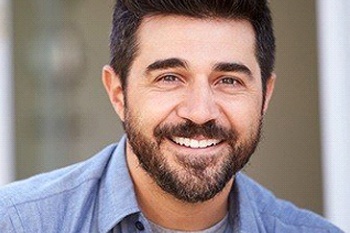 If you have a cracked or broken tooth, suffer from extensive tooth decay, have had a root canal, or just want to make your imperfect tooth look like new again, then dental crowns in Columbia, TN from Beck Dental Care of Columbia may be just the treatment you need. Our team of skilled dentists can create a custom dental crown from natural-looking materials so that no one even has to know you got dental work done. Call our office today to learn how our dental crown solutions can give you back the functional teeth you need to smile, speak, and eat unhindered.
What Are Dental Crowns?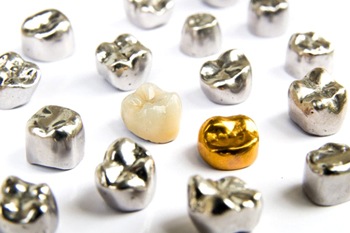 Also called a "cap," a dental crown is a personalized restorative dentistry solution that fits over a damaged, decayed, or otherwise flawed tooth to protect it and renew its ability to help you eat and smile. While crowns are most commonly used to shield a vulnerable tooth from additional damage, they can also be used for cosmetic reasons – such as to improve the appearance of a severely stained or chipped tooth.
Depending on your unique oral health situation as well as your preferences, we can make dental crowns out of the following materials:
Precious metal (gold or silver)
Porcelain fused to metal
All-porcelain or ceramic
Typically, we recommend metal crowns for teeth toward the back of the mouth, as metals are better able to withstand the daily pressures of chewing. The other two options can be color-matched to blend in with your surrounding teeth while also still being fairly durable, so we often place them on front teeth.
The Dental Crown Treatment Process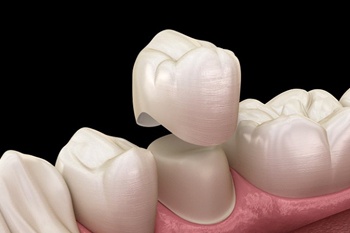 Not counting a consultation with your dentist in Columbia, you can usually expect the dental crown process to take two appointments. The first visit involves preparing your tooth. We may either remove a thin outer of layer of enamel or build up the tooth using filling material to ensure the tooth can adequately support a crown. Next, we capture impressions of your teeth, creating a mold that our partnered dental lab uses to craft your restoration.
This process may take a few weeks. In the interim, we will likely place a temporary crown to protect your tooth. Once the final crown has arrived at our office, you'll return for a much shorter appointment, during which we remove the temporary, make any last-minute adjustments to the permanent crown, and cement it into your tooth.
Benefits of Dental Crowns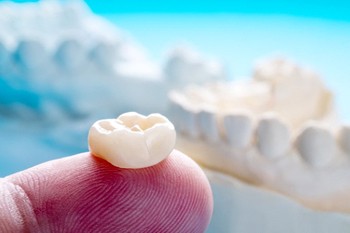 In the old days, there was not much that dentists could do to salvage a severely damaged tooth. In fact, they would often simply remove these teeth entirely. These days, though, tooth extractions are only used as a last resort when no other treatment can save the tooth. The invention of dental crowns played a key role in that process. Dental crowns help you retain your natural teeth by protecting them from further breaking down and necessitating extraction.
Additionally, dental crowns can effectively conceal cosmetic imperfections in your teeth. Whether you have stubborn dark stains that do not respond to teeth whitening treatment or small chips or cracks that do not threaten the structural integrity of your tooth, crowns can make these flaws instantly disappear. Plus, dental porcelain can be customized to mimic the exact shade of your surrounding teeth, guaranteeing seamless results.
Dental Crown Frequently Asked Questions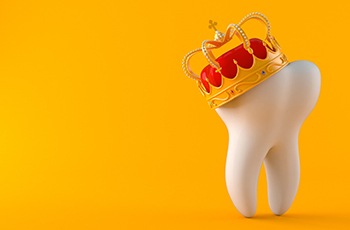 Have you been told that you're in need of a dental crown? This restoration is a great way to keep structurally compromised teeth in good health. However, you may still have some unanswered questions. Here are the answers to some of the most common queries we receive about dental crowns in Columbia. If you don't see the information that you're looking for below, don't worry. Give us a call and we'd be happy to answer your questions and schedule you for an appointment.
Are Dental Crowns Permanent?
No, dental crowns are not permanent, but they are considered a long-term solution. On average, they can last anywhere from 5 to 15 years or even longer with proper care. A small amount of protective enamel must be removed in order to make room for the tooth, and enamel does not grow back. This means that the affected tooth will always need to be covered with a crown to keep it protected. That being said, crowns protect the underlying tooth from additional damage, helping the tooth to survive for much longer than it would otherwise. Take good care of it by keeping up with your daily oral hygiene, attending regular checkups, and wearing a mouthguard when needed.
Do Dental Crowns Get Cavities?
It is impossible for the crown itself to develop cavities, but the tooth underneath it still can. In fact, a crowned tooth has about the same risk of decay as an uncrowned tooth. Poor oral hygiene makes it possible for bacteria and plaque to form around the gumline where the tooth meets the crown. They can then travel underneath the crown and weak havoc on the underlying tooth. You can prevent cavities in crowned teeth the same way you do in any other tooth. Brush, floss, and attend your regular cleanings and checkups.
Does It Hurt to Get a Dental Crown?
Just like when you get a filling, your dentist will numb your tooth beforehand. This way, you'll feel perfectly comfortable throughout the duration of your procedure. Afterwards, your tooth may feel sensitive for a few days, especially if you also underwent a root canal. Take recommended over-the-counter pain relievers as directed and give us a call if discomfort worsens.
Is It a Dental Emergency If Your Crown Falls Off?
Losing a dental crown isn't an urgent dental emergency, but you should still call your dentist and schedule an appointment within the next few days. The only time you'd need to be seen right away is if the underlying tooth has sharp edges that could harm the soft tissues in the mouth. Even if your tooth doesn't hurt, it's still important to have the crown reseated or replaced fairly quickly, as the tooth is more vulnerable to decay, breakage, and other damage. When you head to your appointment, bring your crown with you.