Dental Crowns & Bridges in Columbia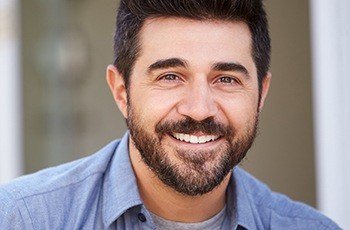 For decades, Beck Dental Care has used dental crowns and bridges to rebuild smiles in Columbia, TN. If you have a cracked or broken tooth, suffer from extensive tooth decay, have had a root canal, or are missing a tooth, our dental crown and dental bridge solutions will give you back the functional teeth you need to smile, speak, and eat unhindered.
What Are Dental Crowns?
Our restorative dentistry experts use these small, cap-like devices to protect a damaged tooth and give it back the ability to do the job it was meant to. Our durable crowns will stand up to all the forces inside your mouth while also restoring the appearance of your damaged tooth.
What Materials Does Beck Dental Care Use for Dental Crown?
We offer three different materials for dental crowns in Columbia, TN to fit your unique needs. No matter which option is right for you, we'll custom-make your crown using digital impressions.
Precious Metal (Gold or Silver)
Porcelain Fused to Metal
All-Porcelain and Ceramic
Inlay and Onlays
Inlays and onlays are partial crowns. Inlays are applied to the inner biting surface of a damaged tooth, while onlays extend onto the outer edges.
What Is a Dental Bridge?
Rebuild your smile with a dental bridge from Beck Dental Care. This restoration uses either dental crowns or dental implants to hold one or more replacement teeth that "bridge" a gap in your smile.
Types of Dental Bridges at Beck Dental Care
There are two distinct types of bridges: a fixed bridge and an implant-supported bridge. The big difference? One is held in place with crowns cemented to existing teeth while the other is supported by dental implants. The one that is right for you will be determined based on your particular needs.
Fixed Bridge
For this restoration, two dental crowns are placed on the teeth on either side of the missing one(s). They are then attached to prosthetic teeth that literally "bridge" the gap between them. In addition to improving the appearance of the smile, a fixed bridge also prevents the remaining teeth from shifting in the open space (which is common after tooth loss). With one, a patient with have a renewed ability to speak clearly and chew comfortably.
Implant-Supported Bridge
If you are missing a few teeth in a row but do NOT have enough dental structure to support a fixed bridge, your dentist may suggest an implant-supported bridge. For this, two implant-retained crowns will be placed on either end of the gap in your smile, and these will be bonded to prosthetic teeth to close the space. Because this prosthetic is anchored below the gum line just like your natural teeth, it will blend in seamlessly with the rest of your smile, and the teeth themselves will be specially shaded to blend in as well.
Dr. Hart on Crowns & Bridges