Clear Aligners – Columbia, TN
An Invisible Alternative to Traditional Braces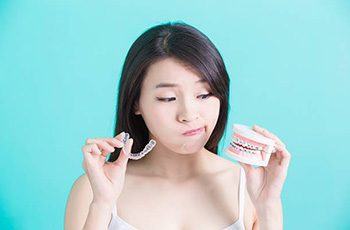 A straight smile doesn't have to mean spending years with a mouthful of metal brackets and wires. At Beck Dental Care of Columbia, we are happy to provide patients with an almost invisible alternative – clear aligners. Using smooth, plastic alignment trays, this orthodontic solution delivers perfectly aligned smiles quickly and comfortably, leaving you looking and feeling your very best. Are you ready to get started? Call our dentist and team to schedule a consultation appointment today! We'll be happy to examine your smile and create a custom treatment plan to deliver your flawlessly aligned smile.
Why Choose Beck Dental Care for Clear Aligners?
Top-Rated Dental Office in Columbia
Early Morning and Evening Hours Throughout the Week
Highly Trained and Caring Dental Team
What Are Clear Aligners?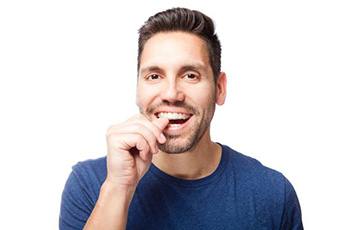 In short, clear aligners are a discreet alternative to traditional metal braces. Each tray is custom-made to move your teeth closer and closer to their ideal positions – all you have to do is exchange the current alignment trays for the next set in the series after 7-14 days. By wearing them for 20 to 22 hours a day, you can achieve the smile of your dreams in just 12 to 18 months too!
Who Is a Candidate for Clear Aligners?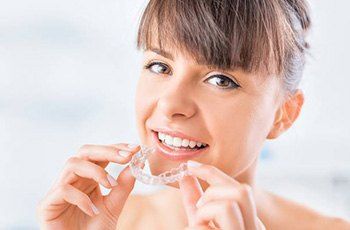 More patients than ever, including teens, can now correct their smile alignment using clear aligners. In fact, they can even be used to correct more advanced concerns, including:
Crowded Teeth
If your teeth overlap, you might feel self-conscious smiling. Plus, the unique crevices can harbor food particles and plaque, significantly increasing your chances of developing cavities. The good news is that clear aligners can address both! By guiding your teeth into their properly aligned positions, our talented Columbia dentists can improve the look, function, and health of your smile.
Gaps Between Teeth
Similar to crowded teeth, gapped teeth can be detrimental to several aspects of your smile. Once again, there's no reason to worry because clear aligners can gently push your teeth together, closing the noticeable spaces in the process.
Bite Alignment
You might not notice an uneven bite on a regular basis, but that doesn't mean its impact is insignificant. After all, overbites, underbites, crossbites, and the like can negatively impact everything from your chewing habits to your speaking patterns. Luckily, clear aligners can effectively correct orthodontic issues like these as well.
The Benefits of Clear Aligners
Traditional braces are still the right orthodontic option for many patients, including younger patients and those who need to make very advanced orthodontic changes. However, clear aligners come with numerous notable benefits, including the fact that they are:
Fast – Traditional braces can take 18 to 36 months or longer. Clear aligner treatment is often completed in about 12 months. In addition to this significantly shorter overall treatment time, patients will also save time with fewer checkup appointments, making clear aligners ideal for those with busy schedules.
Comfortable – Shifting teeth into their ideal alignment is always going to cause some discomfort, but bracket and wire orthodontics add soft tissue irritation to this mix. Clear aligners allow patients to straighten their smiles with smooth, plastic trays that minimize the discomfort associated with orthodontic treatment.
No hassle – Because alignment trays are removable, patients can look forward to maintaining their regular diets and oral hygiene routines throughout treatment. No need to skip out on your favorite meals or spend additional time brushing and flossing around brackets and wires.
Aesthetic – For those patients who are concerned about their professional image, clear aligners offer a way to improve the appearance of your smile without adversely impacting your look during treatment. You'll be creating improved oral health, and all anyone will see is a flawless smile.
Understanding the Cost of Clear Aligners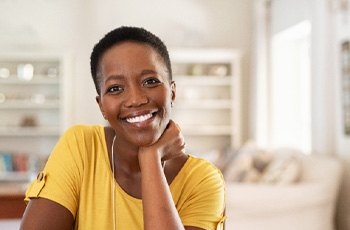 It's natural for prospective patients to be curious about the cost of clear aligners. However, it's not always easy to get a straight answer. That's because each treatment plan is custom-made, so there isn't a one-size-fits-all price. The good news is that our team at Beck Dental Care is here to make navigating the financial side of your treatment easy as well. So much so that we've dedicated this next section to covering important information on the topic!
Factors That Affect the Cost of Clear Aligners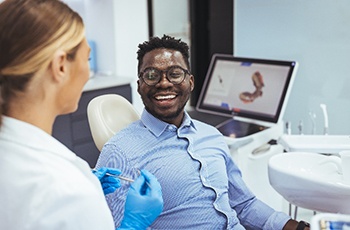 The price of clear aligners differs for each patient based on a variety of factors, such as the degree to which your teeth are misaligned, your age, and whether you need to straighten one arch of teeth or both. There's another factor that will play a role in the cost: your dedication to wearing your trays as often as prescribed. If you consistently don't meet the 20-22 hour-a-day wear time, you can quickly fall off-track with your treatment plan, requiring more aligners and an additional investment.
Clear Aligners vs. Smile Direct Club™: Which Costs More?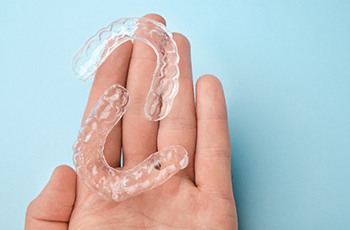 Simply put, mail-order aligner companies, like Smile Direct Club™ are cheaper. However, that definitely doesn't mean this is a better teeth-straightening solution. On the contrary, mail-order treatments use DIY impressions, skip the initial exam, and have countless patients who have experienced worsened misalignment from their products. That's why professional organizations, like the American Dental Association, have actively voiced their distaste – it can be dangerous! If you want to safely straighten your teeth while preserving your oral health, professional treatments are always the best choice.
Does Dental Insurance Cover Clear Aligners?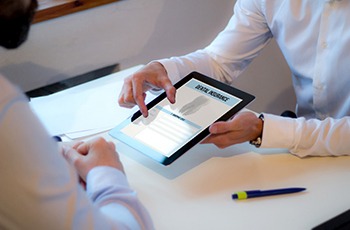 Fortunately, many dental insurance companies are willing to cover a portion of the cost of clear aligners. So, if you are currently insured, then call your provider directly or review the fine print on your plan to get a better understanding of your benefits. Of course, if you're having any trouble, you're always welcome to talk to our team as well. We are in-network with popular providers like Delta Dental and United Healthcare. As a result, we can help you maximize your coverage and easily understand your out-of-pocket expenses.
Options for Making Clear Aligners Affordable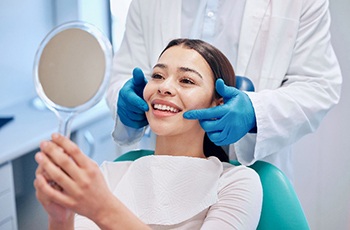 For those without insurance, we partner with CareCredit, a third-party financing option with which you can pay for your treatment in manageable monthly chunks with low-interest rates. We also have periodic special offers that can help make the cost of maintaining, restoring, and enhancing your smile more affordable. To learn more about either of these financial solutions and how they impact the price of your clear aligner treatment, give our team a call.
Frequently Asked Questions, Answered!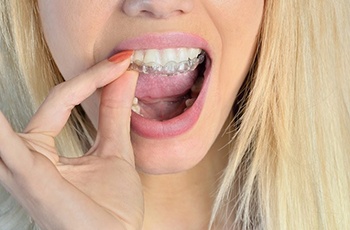 When it comes to orthodontic treatment, clear aligners have really changed the game. But even though they come with a whole host of benefits, many patients are hesitant to undergo treatment. We understand that. To help address some of your concerns, we've answered some of the questions we get asked the most often down below.
What Happens After I'm Done Wearing My Aligners?
After you're finished with any kind of orthodontic treatment, whether it's traditional braces or clear aligners in Columbia, you'll need to wear a retainer in order to prevent your teeth from shifting back into their original misaligned positions. Fortunately, this adjustment couldn't be easier. You'll simply have to wear another set of clear plastic trays that are actually quite similar to your aligners.
Once the end of your treatment approaches, we'll discuss how long you'll have to wear a retainer. In most cases, you'll wear it 22 hours a day for a few months, and then you can switch to only wearing it at night.
Will My Aligners Affect the Way I Talk?
In the beginning, it's likely that you'll speak with a slight lisp. This is because the aligners now rest in the space where the back of your front teeth meet the roof of your mouth. Many sounds you make are produced by your tongue touching this area. Since the aligners are now in the way, your tongue may get a little confused. Most of our patients say that this only lasts a few days at most. You can help speed the process up a little by practicing speaking out loud, particularly words with a lot of "s" sounds.
Does Clear Aligner Treatment Hurt?
When you first start wearing the aligners, or switch to a new set, it may feel slightly uncomfortable. Your teeth might feel sensitive or sore. However, this is perfectly normal. In fact, it's a sign that your treatment is working. The aligners shift your teeth into the desired positions by exerting a gentle pressure on them. To alleviate this discomfort, you can take an over-the-counter pain medication as needed. It also helps to start wearing a new set of aligners at night. By the time you wake up, you'll already be several hours into the adjustment process.