Advanced Dental Services & Technology in Columbia Elevate Your Oral Health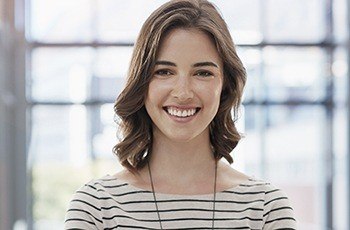 Thanks to modern technology, dentistry is capable of doing much more than simply giving you a clean smile. Now, we're able to catch, diagnose, and treat an even wider array of problems much faster while always keeping you completely comfortable. If you haven't been to the dentist in a while, you'll be amazed at what we're able to accomplish now. Below, you can learn more about some of the great tools and advanced treatments we offer our patients every day.
Sleep Apnea Therapy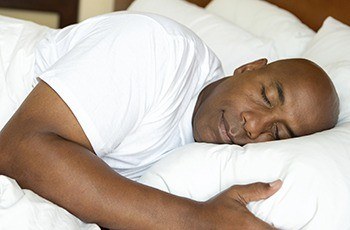 Sleep apnea is a very serious condition characterized by loud, chronic snoring and brief lapses in breathing during the night, and this can leave a person feeling constantly exhausted and even endanger their overall health. Fortunately, we can offer a simple solution to this problem using a custom-made oral appliance. Just by wearing it at night, it can help a patient breathe normally and get the deep, restful sleep they need to wake up in the morning feeling focused and energized for the day ahead.
Learn More About Sleep Apnea Treatment
Sedation Dentistry
Does going to the dentist make you feel a bit nervous? If so, you're far from alone! Thankfully, we're able to successfully treat nervous patients every day thanks to dental sedation. Using either oral conscious sedation (a pill) or IV sedation, we can help allay any fears or stress you might feel in the dental chair as well as protect you from pain. With it, we can finally help you get the healthy smile you deserve without anything to worry about.
Learn More About Relieving Dental Anxiety
Intraoral Cameras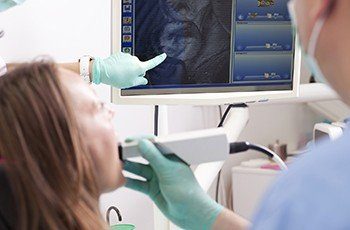 This small, camera-tipped wand allows us to finally show you your smile from your dentist's point of view. We can use it to capture high-resolution images of your teeth and gums and display them on a chairside monitor in real time. This will make it much easier for us to spot dental issues, plus it'll help us explain exactly what we're seeing in your smile and why we might be recommending certain treatments.
Digital X-Rays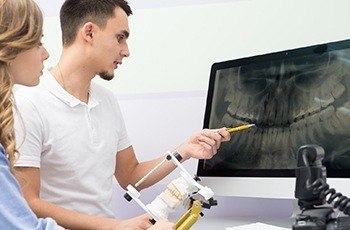 X-rays have been an essential dental tool for decades, and thanks to digital X-rays, we're now able to find potentially hidden dental problems quicker while exposing you to much less radiation. With digital x-rays, we can create images significantly faster than with traditional, film-based X-rays, and they emit up to 90% LESS radiation as well. Plus, because everything is entirely digital, the images can be easily stored, sent, and displayed on a nearby monitor for your dentist to go over.
Learn More About Digital X-Rays
3D Cone Beam Scanner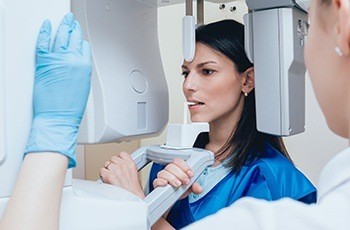 When we need a little more information than a standard X-ray can give us, we'll use our 3D cone beam scanner. It enables us to create a fully three-dimensional X-ray image of your teeth, jaw, and other surrounding structures so we can gain an even deeper understanding of your dental health. This kind of image allows us to form highly-accurate treatment plans for more complicated procedures such as dental implant placement so we can ensure both a successful treatment as well as an easy recovery.
Learn More About 3D Cone Beam Scanners
TRIOS Digital Scanner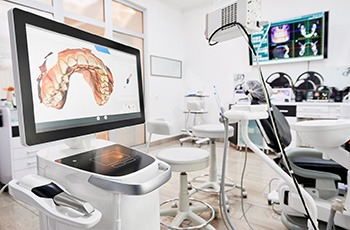 Whenever a patient receives a crown, implant, veneer, oral appliance, or other product, impressions have to be taken of their upper and lower arches. Traditionally, this process involves a putty-like substance that is strongly pressed against the teeth until the material hardens. If you've experienced this type of impression before, you know how uncomfortable it can be! However, here at Beck Dental Care, we use a TRIOS digital scanner, a small device that fits easily and comfortably within the mouth. This technology digital measures and scans your oral cavity to create a 3D model in minutes and allows us to be even more precise with our products.