Full-Mouth Reconstruction in Columbia
A full-mouth reconstruction is a comprehensive treatment intended to restore a smile that has a multitude of dental problems using numerous restorative and cosmetic procedures. Whether a patient has broken teeth, decayed teeth, missing teeth, gum disease, or TMJ problems and more, a full-mouth reconstruction can address them all. Each reconstruction is custom-designed based on a patient's particular needs, and in the end, even the most problematic smile can be made healthy and beautiful again.
Think it's too late for your smile? We beg to differ! To learn how we can save your smile, contact us today.
For more than 40 years, Beck Dental Care has been helping people in the Columbia community put the pieces of their smile back together with full-mouth reconstructions. When you have a mouth full of damaged or missing teeth, the only thing you want is to fix them so you can eat, smile, and talk with confidence again. A full-mouth reconstruction allows us to address all the restorative dental issues you suffer from with a single treatment plan.
Restorative dentistry is always very personal because everyone's smile has different needs, whether they have cavities, cracked teeth, or missing teeth. After a thorough examination and discussing your smile goals, only then will your dentist recommend a treatment, and then they'll use strong and natural-looking materials to rebuild your smile. A full-mouth reconstruction may include:
Dental Crowns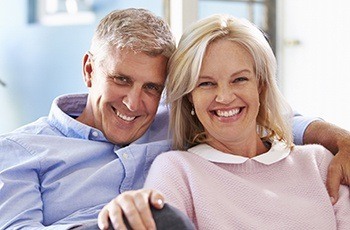 A dental crown is one of the most trusted and versatile treatments in all of dentistry. With one, we can quickly repair a chipped, cracked, or decayed tooth as well we enhance it cosmetically. While they can be made from a variety of materials, our practice prefers to use all-porcelain crowns whenever we can because they more closely resemble a natural tooth. In just two appointments, we can take a tooth and make it look like nothing bad ever happened to it.
Inlays/Onlays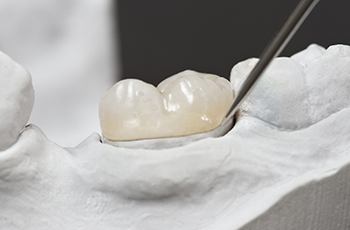 These restorations serve as a middle ground between fillings and dental crowns, which is why they are sometimes referred to as "partial crowns." Made entirely of porcelain to help them blend with the smile, they're able to conservatively repair teeth in a way that allows us to preserve more of a tooth's natural structure. An inlay is how we can restore a tooth that has internal damage, while an onlay is used to repair a tooth that has damage on the cusps (or the upper chewing surface).
Dental Bridge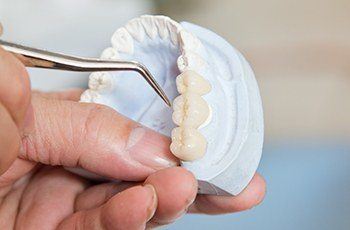 A dental bridge can be used to replace a single missing tooth or even a row of three missing teeth to help complete a gapped smile. Typically, two dental crowns are placed on the teeth on either side of the missing ones, and these are used to support prosthetic teeth that literally "bridge" the space between them. In the end, they're able to restore a smile's original appearance and function while also preventing the remaining teeth from shifting out of place.
Porcelain Veneers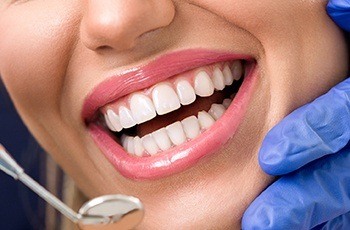 Small chips, cracks, and gaps can often be repaired using just porcelain veneers, which is an extremely thin porcelain shell that is bonded directly to the front of a damaged tooth. They can be used to rebuild a tooth's strength, improve its appearance, or both. Whether used for restorative or cosmetic reasons, porcelain veneers provide a relatively simple and durable solution that can help a smile regain its original look and function.
Learn More About Porcelain Veneers
Dental Implants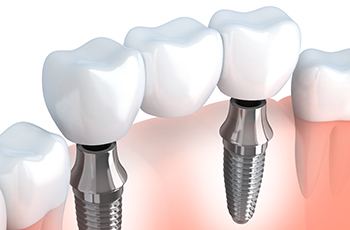 Dental implants are currently the premier tooth replacement solution available today. Whether you are missing a single tooth or all of your teeth, this prosthetic is able to rebuild your smile literally from the root up in a way that can easily last for 30 years or more. They are virtually indistinguishable from natural teeth both in look and feel. We can even perform the entire procedure from start-to-finish unlike many other local practices to make it easier than ever to get your complete smile back.
Learn More About Dental Implants
Dentures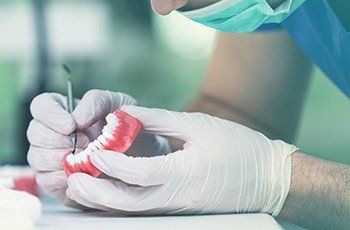 Dentures have long been one of the go-to treatments when it comes to quickly replacing multiple missing teeth. Thanks to the latest advancements in dental prosthetics, modern-day dentures are now smaller, sleeker, and more natural-looking than ever. Whether you are missing just a few teeth or an entire row, they can be designed to give you a confident smile that helps you speak clearly and enjoy your favorite foods with relative ease.