All-on-4/All-on-6 Dental Implants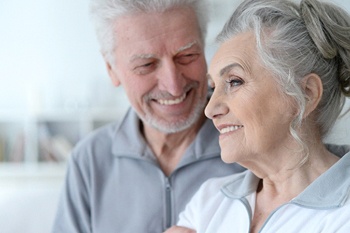 Do you have a removable denture that just won't stay in place? Have you been told in the past that you aren't a good candidate for dental implants? In either case, you can finally have your smile restored with the most state-of-the-art tooth replacement available thanks to All-on-4/All-on-6 dental implants. Using this treatment, Dr. Beck and his team are able to place dental implants and a full denture in one appointment, making it simpler than ever to get your complete smile back.
How Does All-on-4/All-on-6 Work?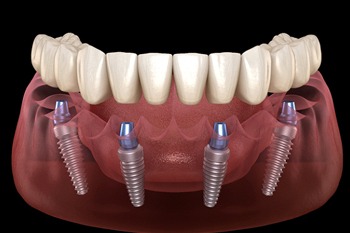 The key to these treatments relies on the strategic placement of the implants themselves. To find the perfect locations within your jawbone, our team will use advanced imaging technology and a cone beam scanner to create a precise treatment plan. Two implants will be placed towards the front of the jaw where the bone is naturally thicker, and then two or more will be placed on either side at the back at an angle to help them provide maximum support. Once they have been placed, then your dentist can attach the denture to them.
The implant posts used for these treatments are longer and thicker than traditional implants, and because of where they are placed, they are able to work for patients who traditionally are not able to get dental implants due to bone loss.
The Benefits of All-on-4/All-on-6 Dental Implants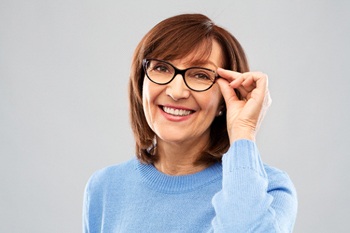 Speed: Both the implants and the denture are placed during the same appointment, making it one of the fastest ways to restore a large number of missing teeth.
Longevity: When placed by a skilled dentist like those at Beck Dental Care, dental implants can be expected to last for 30 years or more.
Security: Compared to a traditional removable prosthetic, dentures held with dental implants have a much more secure hold, the fit lasts longer, and they also enable a patient to have a much stronger bite force.