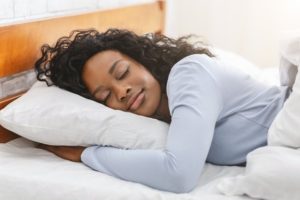 Sleep apnea is a condition that robs millions of people of countless hours of sleep each night—and unfortunately, if your partner has sleep apnea, you might also be missing out on sleep too! The best thing you can do is have your partner seek treatment for their sleep apnea; however, there are other ways of addressing the condition! Here are a few gift ideas you might consider picking up for your loved one that can help reduce snoring and certain sleep apnea risk factors.
The Importance of Treating Sleep Apnea
Simply put, sleep apnea is a serious condition that warrants treatment; while snoring and waking up repeatedly throughout the night might seem innocuous, sleep apnea can lead to some pretty serious consequences if left untreated. Daytime fatigue and impaired mental function are a few common side effects, but if sleep apnea remains unaddressed, it can ultimately lead to things like high blood pressure, diabetes, and an increased risk of stroke or heart attack.
That said, seeking professional sleep apnea treatment is often the best course of action for managing the condition. Common solutions include CPAP machine and custom-made oral appliances, both of which are capable of encouraging proper airflow during sleep and reducing the amount of sleep disruption that occurs. After you've undergone a sleep study and received a sleep apnea diagnosis, you can usually begin receiving treatment.
Gift Ideas for Loved Ones with Sleep Apnea
In addition to seeking sleep apnea treatment, there are a few things you might consider gifting your loved one if their sleep apnea is causing problems for others in the household:
Sleep noodle – A sleep noodleis a device that looks similar to a fanny pack that's worn during sleep. It's scientifically-proven to assist with positional therapy, meaning that it works by training you to sleep on your side, keeping gravity from pulling against your airway muscles.
CPAP pillow – CPAP pillows are designed to keep you in a natural sleeping position due to the unique shape of the pillow; they also feature cutouts to accommodate the sleeper's CPAP mask and tubing. These pillows are also made from a variety of breathable and comfortable materials that help patients fall asleep and stay asleep.
White noise machine – Whilethis isn't exactly a sleep apnea or snoring solution, it can still benefit you and your partner in the sense that it'll help to mask the sound of loud, disruptive snoring!
In any case, as effective as these gifts might be when it comes to addressing sleep apnea, seeking professional treatment is still going to be the best course of action for managing the condition.
About the Practice
The team at Beck Dental Care of Columbia has proudly served patients and families in the Columbia, TN area for several years. The practice is thrilled to offer a wide range of preventive, cosmetic, and restorative dental treatment options, as well as sleep apnea treatment. If you or a loved one is suffering from sleep apnea, don't hesitate to contact the practice online or by phone for assistance or to schedule a consultation. Telephone: (931) 236-2141.