Dental Implant Technology – Columbia, TN
The Difference That Cutting-Edge Technology Makes
If you're interested in dental implants in Columbia because of the many benefits they offer, you won't be disappointed! Improved self-confidence, superior chewing strength, and unmatched longevity are just some of the perks you can look forward to. This procedure already has a high success rate, but to give your implants an even better chance of lasting a lifetime, we use advanced technology that gives us an "edge" right from the start to provide you with better results. Below, you'll learn more about how these tools benefit you, but if you have any other questions, feel free to contact us at any time!
Digital X-Rays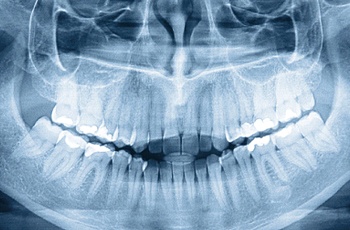 X-rays have been used for around 100 years now to help dentists find and diagnose problems that they can't see with their eyes alone. More recently, digital X-rays have been a game-changer because they provide better images of your teeth and jaws that we can easily manipulate (e.g. change the contrast, sharpness, etc.) to better see what we need to. Not to mention that they use up to 90% less radiation! This is incredibly helpful during each stage of the implant process and also allows us to monitor your implants in the future to make sure the jawbone around them remains strong and stable.
During the consultation and initial planning stage, we'll take a special type of digital X-ray called a panoramic X-ray. This shows us the entire structure (roots and crowns) of all your teeth, your upper and lower jaws, sinuses, TMJ, and more. With this comprehensive view of your teeth and jaws, we can rule out possible complications before recommending dental implants and make sure they're a good choice for you. After your implants are completed, we'll evaluate them at your checkups with smaller, routine X-rays (done once a year) to catch potential problems as early as possible.
3D Cone Beam Scanner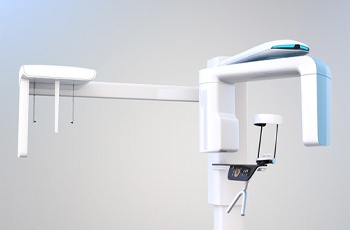 For the surgery itself in which we place an implant in your jaw, we want to be as accurate and precise as possible. To do that, we need as much information as possible beforehand about your teeth, jaws, nerves, and other oral anatomy. Digital X-rays are an excellent tool that provides an overview of everything, but they only give us a two-dimensional image of three-dimensional structures.
With a 3D Cone Beam scanner, we see a life-like, three-dimensional picture of your teeth and jaws, which allows us to improve the quality of your implant procedure in several ways:
Since we can see the size, density, shape, and thickness of your jawbone, we know exactly where to place the implant so it has the maximum amount of support.
By being able to see the many nerves that run through the jaw and oral cavity, we can be certain to avoid them and prevent uncomfortable complications.
With less chance of improper placement, you'll have a faster, more comfortable healing and recovery process.
Our goal is to make the implant process as smooth as possible and help our patients enjoy their new smile for life. Since each person's anatomy is completely unique, it just makes sense to use tools that allow us to personalize each implant procedure.
If you'd like to learn more about the technology we use to provide top-notch implant care, you can get in touch at any time. As an implant dentist in Columbia, we may be biased, but we think this technology is fascinating and we're always happy to tell you more!