What is Done in One?—Columbia, TN
A Brand-New Smile in Just 48 Hours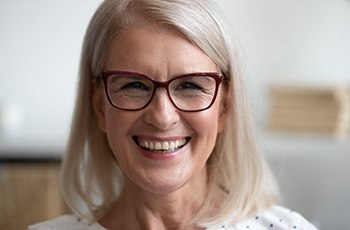 If you're struggling with tooth loss, you have more options than ever to restore your smile. While this is good news initially, actually choosing what to do can be quite the task. Many patients go with so-called "Teeth-in-a-Day" because it advertises exactly that—the ability to replace all missing teeth in a single visit. Unfortunately, what most patients end up with is a temporary denture, and then they have to spend months (and thousands of dollars) getting their permanent teeth.
Done in One is different.
With this method, patients receive a hybrid dental implant bridge made from the world's highest-quality zirconia in just 48 hours—no temporary needed! It is by far the fastest and most effective way to replace several teeth for a lifetime, and it can also save you a tremendous amount of money compared to the other guys. At Beck Dental Care of Columbia, we're proud to offer this service because it gives our patients the best combination of quality, speed, and lasting results. Schedule a consultation to get the answers to all your questions, including, "What is Done In One," from our Columbia, TN dentist and team.
Material Matters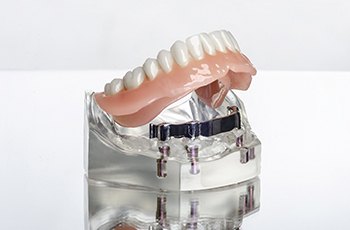 The Done in One process involves placing dental implants, letting them rest for 48 hours, and then fitting a patient with their new hybrid bridge. Between the visits, a scan of a patient's teeth and bite are sent to a Done in One lab, who basically work through the night to design, mill, and refine a bridge made of 100% zirconia.
Why zirconia? Because not only is it extremely strong, but it also allows for superior aesthetics. Natural-color dispersion creates a translucency in the gum tissue that is true to life and is virtually impossible to recreate with other materials. Plus, the zirconia is designed to slightly bend and flex while chewing. This takes pressure off of your gums and implants, leading to a more comfortable fit and longer lasting result.
Other fast-implant procedures use prosthetics that are made of acrylic, which is more prone to breakage, slippage, and developing foul odors. In fact, the American Dental Association doesn't consider the acrylics most places use to qualify as "permanent teeth," but that's what you get. With Done in One, the zirconia delivers both immediate and long-term success.
Make Your Wallet Smile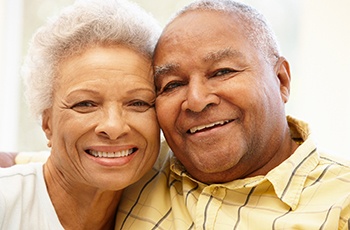 It's important to know that the cost of Done in One is not set in stone—it varies from patient to patient depending on a few key factors, such as how many implants are needed, if extractions or gum disease therapy have to be performed beforehand, and a patient's dental insurance coverage.
However, despite the variability, patients routinely save $15,000-$20,000 on Done in One versus other types of immediate implant dentures. Why? Because with Done in One, what you pay for is what you get—permanent teeth in 48 hours. With the other guys, you get a temporary denture on the day of your appointment, and this is followed by a 6-8 month process of getting your actual permanent teeth. This not only adds thousands to the initial cost, but you'll also spend countless hours visiting the dental office a dozen times or more.
Learn More About Done In One
If you would like to learn more about the Done in One process, how it works, and the additional advantages this method offers, you'll find all the information you need on our website. And of course, you're always welcome to give us a call or schedule an in-person consultation. With Beck Dental Care of Columbia, you can put your tooth loss behind you permanently in just a matter of days, and we can't wait to give you a new smile!