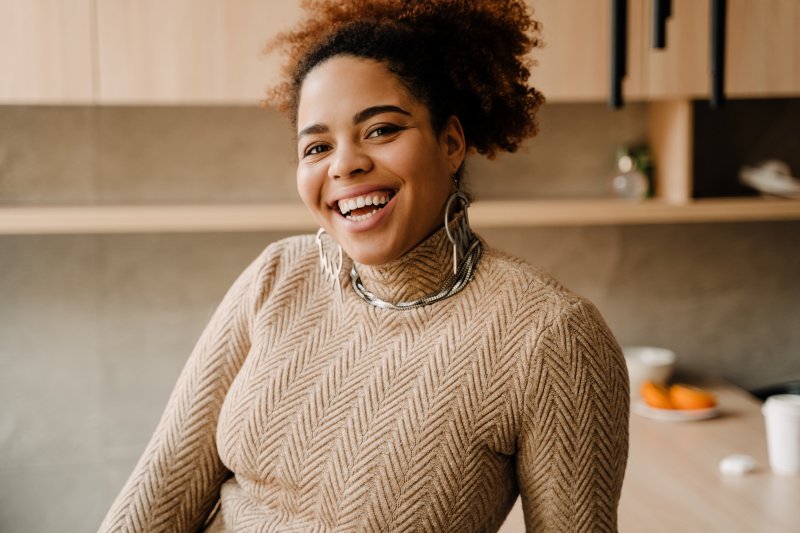 According to Yale Research, men smile about 8 times a day while women do so 62 times on average. This is much lower compared to other studies which have found that children show off their pearly whites roughly 400 times per day! Grinning can often help you make a great first impression, but did you know it can also have a positive impact on your overall health? Read on to learn about the four essential benefits of smiling!
Benefit #1: Retain a More Youthful Appearance
Have you ever heard some people say that smiling can create wrinkles, like laugh lines or crow's feet? Although this is a popular opinion, research has found that not grinning can actually make a person appear older. A study from Berlin's Max Planck Institute presented participants with pictures of people with smiling expressions compared to neutral ones, and the former was seen as the youngest. For this reason, you shouldn't try to keep yourself from showing off your teeth to prevent aging.
Benefit #2: Improve Your Immune System
Not only does smiling help create a good first impression, but it can also improve your overall health. According to the Loma Linda University School of Medicine's Department of Clinical Immunology, laughter can increase the number of white blood cells throughout the body. These cells play an integral part in boosting your immune system and fighting off bacteria and infection. This means that the simple act of smiling can help promote better overall health!
Benefit #3: Boost Your Self-Confidence
It's been proven that those who smile more often are typically viewed as approachable, outgoing, and more competent. By grinning, you can embody these traits, which can have incredible positive influences on your personal and professional life. If you're struggling with minor dental flaws in your teeth, you can ask your dentist about cosmetic dentistry. They'll be more than happy to offer the proper treatments to enhance your pearly whites so that you can show off your beautiful results.
Benefit #4: Spread Positivity
Did you know that smiling and feelings of positivity often go hand-in-hand? Every time you laugh or grin, your brain is given a signal to release "happy" emotions, which can significantly improve your mood. On top of that, others who see you will also feel the urge to do the same, leading to a ripple effect of positive feelings.
Now you understand how important smiling is for your overall health and quality of life. Feel free to show off your teeth when you're feeling good, and speak with your dentist if you want help improving them!
About the Author
Dr. Victor Beck, Jr. is a proud member of several prestigious organizations such as the Tennessee Academy of General Dentistry and the American Academy of Cosmetic Dentistry. He studied at the University of Tennessee and has been delivering outstanding care for over four decades. He offers a vast collection of comprehensive and high-quality services, including teeth whitening and veneers. If you'd like to schedule an initial consultation, visit his website or call him at 931-236-2141.