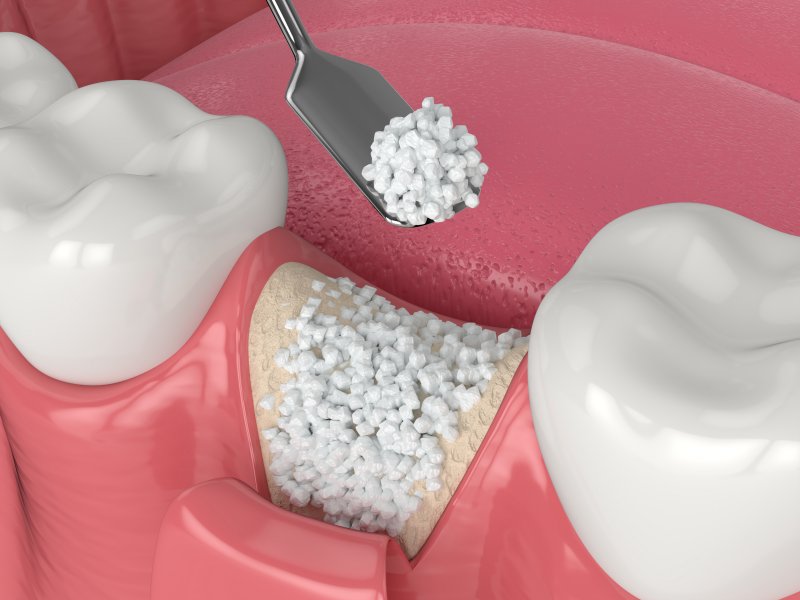 Dental implants are one of the most popular and effective methods for replacing missing teeth. By being surgically embedded into the jawbone, they can restore your smile as well as preserve a more youthful facial shape for many years to come. One of the key factors of their success is in having healthy bone tissue. But what happens if you don't have enough? This is where a bone graft comes into play! Keep reading to learn what this treatment is and why it might be necessary before getting dental implants.
Why Would You Need a Bone Graft to Get Dental Implants?
For a dental implant to work, you'll need to have the titanium post surgically inserted into your jawbone to replace the roots of a lost tooth. Osseointegration will then take place—the process of the surrounding bone tissue bonding and healing around the implant, creating a strong foundation for your future restoration. If there isn't enough density in your jawbone, then there might not be a sufficient amount of tissue to keep it stable, reducing the chance of a successful procedure.
Since the jawbone typically begins to deteriorate after a tooth is lost, a lack of bone tissue mass can follow. Some studies suggest that about 50% of dental implant candidates require a bone graft before receiving their restoration. With this treatment, your dentist will be able to embed additional material into the specific area of the jaw to strengthen the tissue for the titanium posts.
3 Reasons You Might Require a Bone Graft for Dental Implants
Here are several reasons why a bone graft might be necessary for your jawbone:
Gum disease: If you have advanced gingivitis, the connective tissues that will help support your dental implants and natural teeth might be more vulnerable to damage, which can cause your restorations to fail.
Trauma to the jaw: An accident or injury to the jawbone can weaken the tissue and make them less likely to integrate successfully with the metal posts.
Extended tooth loss: Due to a lack of stimulation in the jawbone where the roots used to be, any remaining teeth can begin to shift out of place to close the space, increasing the risk of further tooth loss.
How Do Bone Grafts Work?
With a minor oral surgery, your dentist will access the weakened area of your jawbone and place grafting material there. This bone tissue will either be provided by a donor or taken from another area in your body. After they've inserted this component into your jawbone, the material should promote strong and healthy bone tissue until it's strong enough to support your dental implant(s).
Once a bone graft is completed, you may have to wait 4-6 months before you can restore your missing pearly whites. By then, after a successful recovery, you can be sure to have a greater chance of renewing your smile with dental implants that can last you a lifetime!
About the Author
Dr. Victor Beck is a proud member of numerous prestigious groups like the Academy of General Dentistry, the Sixth District Dental Society, and the American Dental Association. He studied at the University of Tennessee and regularly seeks continuing education to expand his skills. He offers a vast collection of advanced treatments, including dental implants. If you'd like to schedule a consultation, visit his website or call 931-236-2141.