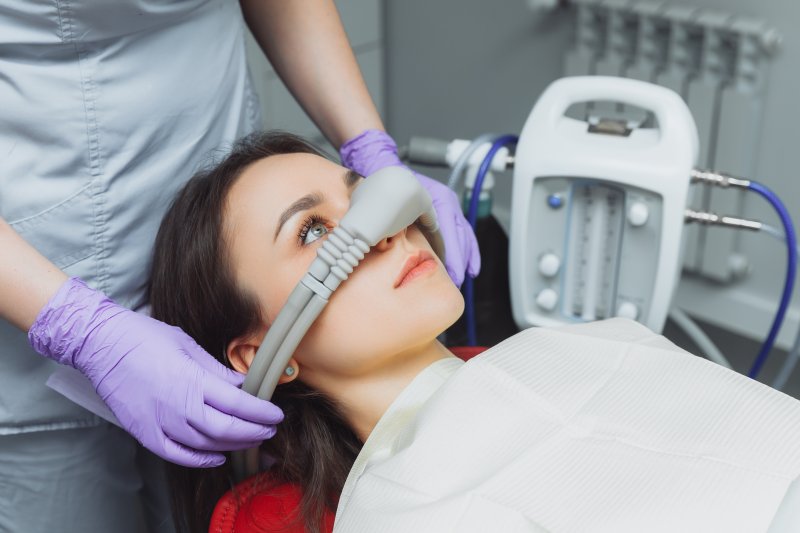 Are you typically anxious or nervous when it comes to visiting your dentist? Do you also have difficulty sitting comfortably in a chair for prolonged periods? With nitrous oxide, you'll be able to undergo most dental treatments with the utmost comfort. But will this sedative also make you fall asleep or lose consciousness? Keep reading to learn what to expect!
Will Nitrous Oxide Put You to Sleep?
Unlike local anesthesia, nitrous oxide is a mild sedative that won't put you to sleep during your treatment. Most patients describe experiencing a sense of relaxation or euphoria, which is why it's also known as "laughing gas." While you might feel comfortable enough to doze off, you'll remain conscious throughout your appointment. You can be easily awakened and will be able to respond to simple verbal commands from your dentist.
How Does Nitrous Oxide Work?
Your dentist will place a nose mask on you to administer the nitrous oxide. They'll wait a few minutes for you to breathe in the sedative until you begin to feel completely relaxed. Once they've verified that you are under the effects of the gas and are comfortable, they can start performing your treatment. During your procedure, a qualified team member will adjust the nitrous oxide as needed to keep you safe. After your appointment is finished, the effects should begin to wear off shortly.
The Benefits of Nitrous Oxide
If you still aren't sure about receiving nitrous oxide sedation, it might benefit you to learn more about the various advantages this solution offers. These include:
A simple and easy sedative to administer.
The calming effects vanish quickly, offering little-to-no recovery time.
An effective and fast-acting solution.
It helps people who experience dental-related anxiety receive their necessary dental treatment with minimal stress.
It helps patients avoid neck, head, and jaw discomfort while sitting for extended periods.
It allows more dental work to be performed in a single appointment.
Even if you've never experienced the effects of nitrous oxide before, you can now expect that it won't put you to sleep during your procedure. Speak with your dentist if you're interested in sedation dentistry, and they'll be more than happy to discuss your options!
About the Author
Dr. Victor Beck is a proud member of several prestigious organizations such as the Maury County Dental Society, the Academy of General Dentistry, and the American Dental Society of Anesthesiology. He received his dental doctorate from the University of Tennessee and has been providing outstanding care for well over four decades. He offers a wide range of advanced services, including nitrous oxide. If you'd like to know more about sedation dentistry, feel free to visit our website or call us at 931-236-2141.