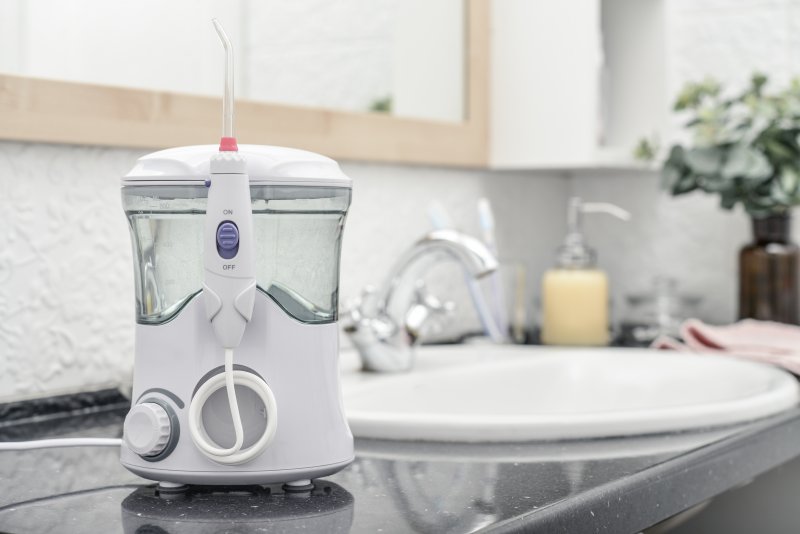 While flossing is one of the most important parts of cleaning teeth, it isn't the most popular. If you're looking for a more exciting alternative, then you might consider using a Waterpik to wash between your pearly whites. Although it might be easier to use compared to a traditional strand of dental floss, you may be wondering if it's just as efficient at removing plaque and preventing gum disease. Keep reading to learn about the differences between the two options and how to determine which is best for you!
The Pros & Cons of a Waterpik
Water flossers, such as the Waterpik, are devices that shoot out a narrow and concentrated stream of water. They allow you to easily dislodge and wash out debris and food particles from between your teeth. These products are especially helpful for those with limited mobility issues, such as arthritis, and can also make it easier to clean around metal braces. By using them, you're also less likely to make your gums bleed, which commonly occurs when using dental floss.
While Waterpik flossers are a valid option for cleaning your teeth, they tend to be more expensive than traditional dental floss. On top of that, some studies have shown that they aren't as efficient at removing plaque as regular floss strands, as the water won't provide the thorough scrubbing action like the traditional method.
The Pros & Cons of a Dental Floss
Dental floss is one of the most effective tools when cleaning between your teeth. Unlike water flossers, these strands can help you reach the tight spaces in your smile while also allowing you to directly remove plaque and bacteria. This product is also cost-effective and comes in various types to help address your specific dental needs.
One of the biggest drawbacks of traditional floss is that they're only beneficial if used with the correct cleaning technique. A major reason people don't enjoy flossing is that it can often feel awkward, difficult, and nearly impossible to completely clean their teeth. It can also pose a challenge for those wearing braces or other oral appliances, as they'll have to do more to work around the obstacles.
Which Dental Product is More Effective?
Both Waterpik flossers and dental floss each come with their unique benefits and downsides. However, the best product for you will likely be the one you commit to using frequently every day. You may want to consult your dentist about which option they recommend for your smile. Not only can they advise you on the correct flossing technique, but they can also discuss other types of tools you might not have thought of before.
Feel free to try both options and see which one you prefer to use the most. As long as you stick with your routine and floss at least once a day, you can be sure to enjoy a healthier smile in the long run!
About the Author
Dr. Victor Beck Jr. is a proud member of several prestigious organizations such as the Sixth District Dental Society, the Academy of General Dentistry, and the Tennessee Dental Association. He studied at the University of Tennessee and continues to pursue advanced training to expand his skills. He offers a vast selection of high-quality services, including dental checkups/cleanings, periodontal therapy, and emergency dentistry. If you'd like to know more about Waterpik flossers and dental floss, visit his website or call 931-236-2141.