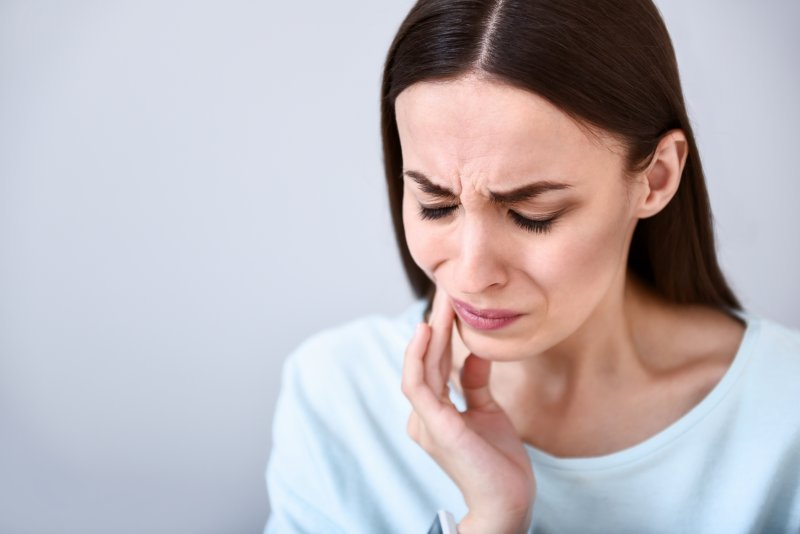 Every once in a while, your jaw may pop or click as you open your mouth. That happens to a lot of people, all things considered. Still, you might wonder whether this condition is (or should be) a worrying one. You wouldn't, after all, want to ignore what could be a severe problem. Thankfully, your local Columbia dentist can help answer your question. Here, then, is a summary of what causes a popping or clicking jaw, the signs you have a TMJ disorder, and when to seek dental treatment.
What Causes Your Jaw to Pop or Click?
Jaw popping stems from issues with your temporomandibular joints (TMJ) – the body parts that connect your lower jaw to your skull. Such problems can result from excessive gum chewing, fingernail biting, and other habits that erode the joints.
Often enough, the popping is temporary and not worth much concern. However, things change when the underlying cause is more serious. If the latter is something like a severe injury, teeth grinding, or arthritis, you could have a TMJ disorder. In that case, the pops and clicks warrant closer attention.
Possible Signs of TMJ Disorder
Look for the relevant signs to see whether you have a TMJ disorder. Besides jaw clicking or popping, the most common of these are the following:
Limited jaw movement or jaw locking
Radiating pain in the face, neck, or shoulders
A sudden change in how your upper and lower teeth fit together
Headaches, earaches, dizziness, and hearing issues
If you suffer from several of the above, consider getting a professional diagnosis. A dentist or medical doctor can determine if your jaw clicking is, in fact, a TMJ disorder.
When to Seek Dental Treatment
As stated before, a clicking or popping jaw usually fades over time. That said, you'll want to see your dentist quickly if it persists alongside more debilitating symptoms.
As for treatment, a dental practice can offer various options. One is a custom mouthguard, protecting you from teeth grinding and clenching-related headaches. Another, meanwhile, would be an occlusal adjustment – a procedure that evens out dental restorations for a better bite. In particular, it would buff down your fillings, crowns, or bridges, so they put less force on the jaw joints.
Ultimately, a popping or clicking jaw can be worrisome at times. Given that fact, remember the signs of TMJ disorder so you'll know when to see a dentist!
About the Practice
Beck Dental Care is based in Columbia, TN. Led by Dr. Beck and his fellow dentists, our practice has over 40 years of excellent dental experience. In particular, we perform a wide range of treatments spanning preventive, cosmetic, and restorative dentistry, as well as emergency oral care. Our team is even equipped to perform TMJ therapy that relieves your aching jaw! For more information or to book a visit, you can reach us on our website or by phone at (217)-546-3333.